LETHBRIDGE, Alta. — Three close calls that could have ended in tragedy spurred the Lethbridge Police Service to rethink how it was responding to troubled individuals causing a disturbance.
Officers were dispatched to deal with reports of armed persons who were suffering from a mental crisis. In each instance, they were taken safely into custody.
But the encounters prompted the force to examine whether there was a way to deal with such situations without using Tasers or potentially deadly firearms, said police Chief Rob Davis.
The result was a decision to convert Remington 870 shotguns into so-called sock or beanbag guns, an increasingly popular class of weapon referred to as "less lethal.''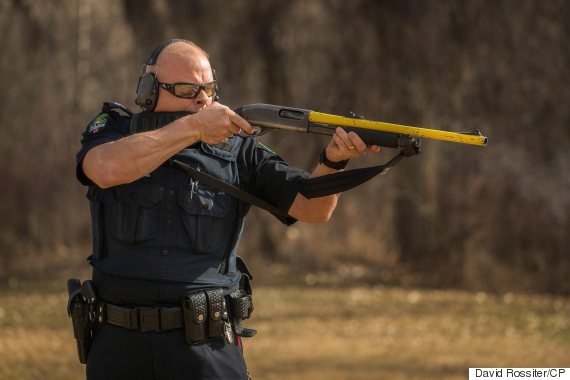 Sgt. Jim Olsen, from The Lethbridge Police Service, fires a repurposed Remington 870 shotgun at the police training firing range. (Photo: David Rossiter/CP)
Police across North America have faced growing scrutiny over weapons that can kill following high-profile shootings such as that of Sammy Yatim on a Toronto streetcar.
"It's the best example of recycling. We call it repurposing, but that's exactly what we've done,'' Davis said in a recent interview.
"I'm a journeyman police officer and it's my experience that most of us have put those shotguns into our vaults and they're sitting there not being used. They're functional, they're a good weapon, and so to transition them into a less lethal weapon was an easy fix.''
Davis said growing use of carbine rifles had relegated the Lethbridge police's shotguns to the sidelines, but now they have been returned to squad cars.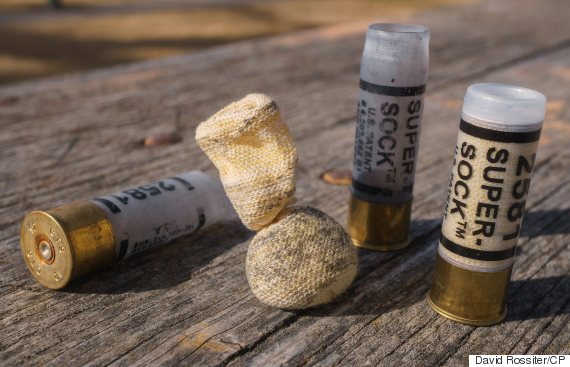 These shotgun sock cartridges are used by Lethbridge police. (Photo: David Rossiter/CP)
A sock round is a small, beanbag-like projectile that is aimed at the lower abdomen, legs and lower arms and reduces the potential for serious injury or death.
The nylon sack full of granular material inflicts pain but doesn't penetrate the body.
"It shoots over 300 feet per second, so it gives you some hitting power in a large area,'' explained Sgt. Jim Olsen, who demonstrated at the Lethbridge firing range. "It affects that muscle area and ... when it affects that muscle area it usually stops bad behaviour from occurring.
"It's not lethal. It actually does a good job and you're able to get a person to the point that they will comply.''
Olsen's target — a bright-orange mannequin called Jerrit (Judgmental Extended Range Reactionary Impact Target) — has suffered the brunt of practice sock rounds. Black marks are clearly visible all over its chest, stomach, arms and legs.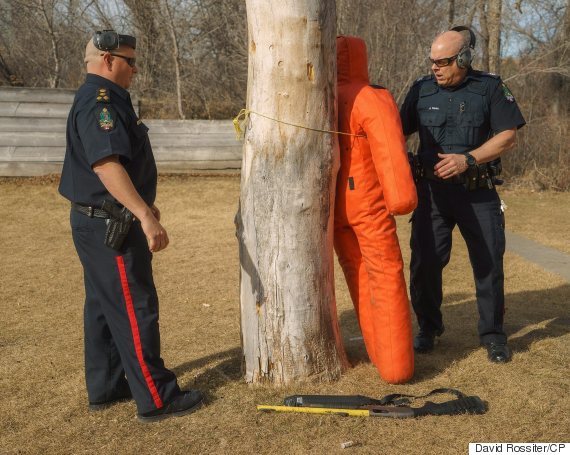 Chief Robert Davis, left, helps Sgt. Jim Olsen set up Jerrit for a training session. (Photo: David Rossiter/CP)
Davis said police have increasingly become first responders with respect to individuals suffering from mental-health issues and his force wanted to ensure the safest response for all involved.
"We deal with a lot of people who are in mental crisis, but we also worry about the mental well-being of our officers. When you talk to officers who have gone through a shooting, that takes quite a toll on them.''
Lethbridge isn't the only police force to have repurposed its shotguns. Toronto police adopted the use of the less-lethal sock guns this year.
— Follow @BillGraveland on Twitter