TORONTO — Sick days are standard in most organizations, but a British company may soon allow its female employees leave to cope with a specific ailment: period pain. Bristol-based community hub Coexist is aiming to develop a "period policy" which could potentially include allowing women time off during menstruation. Coexist is hosting a "Pioneering Period Policy" event slated for March 15. "The purpose of this policy initiative is to create a positive approach to menstruation and the menstrual cycle that empowers women and men and supports the effectiveness and well-being of the organization," reads a portion of the event overview.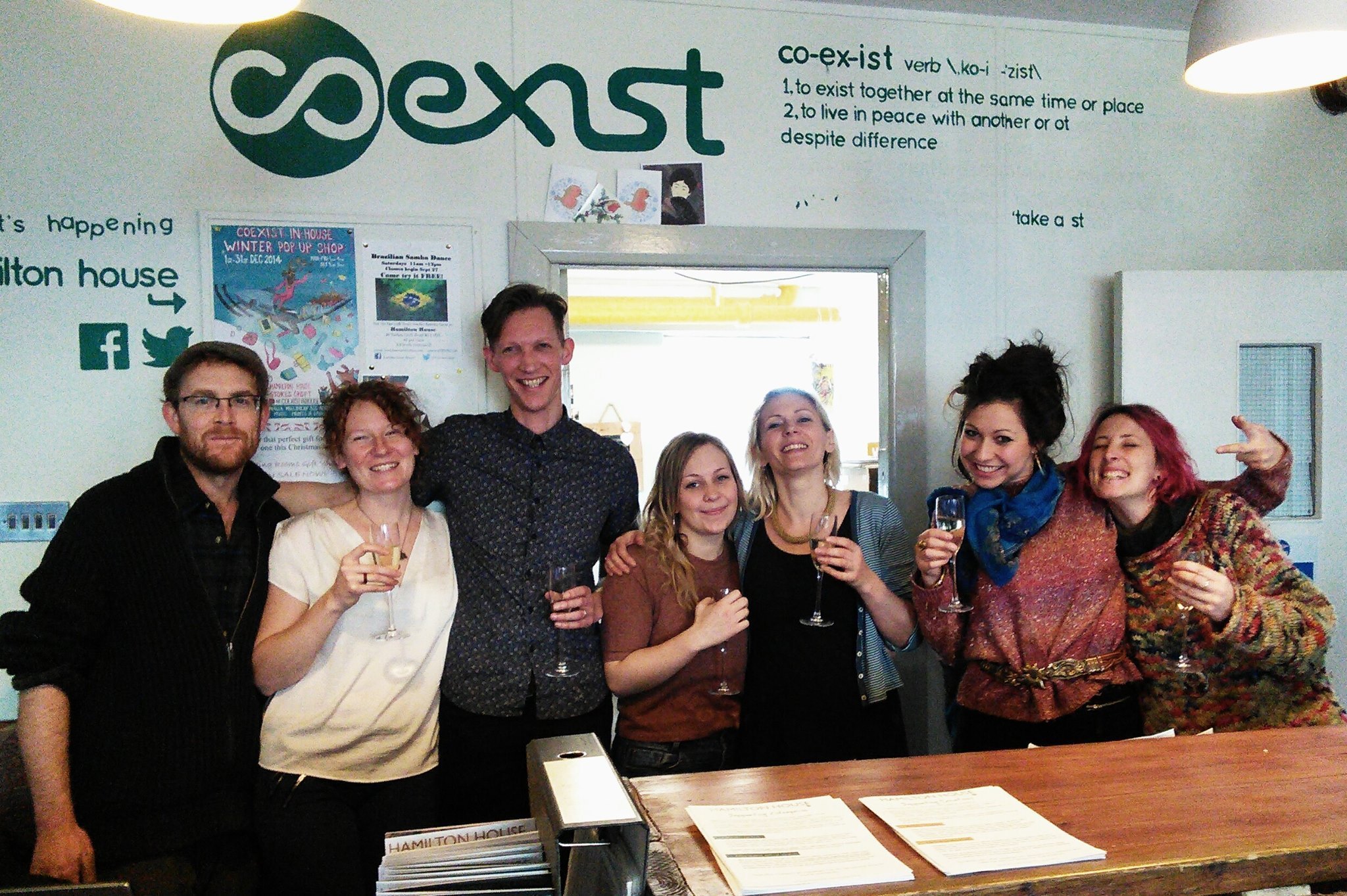 Staffers at Coexist in this 2014 Christmas photo. (Via Facebook)
Coexist looks to potentially follow the path blazed by countries where menstrual leave has been enshrined in law.  Japan enacted menstruation leave in 1947. In Taiwan, female workers "having difficulties" working during menstruation can request a one-day leave each month. South Korea also offers paid menstrual leave. In a statement emailed to The Canadian Press, Nike said workers at contract factories manufacturing for the sportswear giant are provided menstrual leave in countries where this benefit is protected under local law. However, the company doesn't have a formal menstrual leave policy. A 2005 Canadian study looking at the prevalence of women with primary dysmenorrhea — recurrent pain and cramping during menstruation — found that severe symptoms could notably impact their daily lives. Among 934 women with the condition, researchers said 51 per cent reported that their activities had been limited and 17 per cent reported missing school or work. "There's a significant amount of women that have some pain with their periods, and in a portion of those women it is quite unmanageable," said Dr. Catherine Allaire, medical director of the B.C. Women's Centre for Pelvic Pain and Endometriosis. Allaire said some women can be bedridden as a result of severe discomfort, which can also be a symptom of endometriosis — a painful condition where the tissue lining the uterus grows outside the organ. "There's a discomfort in discussing private problems of that sort," said Allaire. "It's also not a cancer or anything deadly, so it's not something that people understand can cause so much disability." Toronto-based human resources specialist Lisa Kay said the introduction of menstrual leave has the potential to raise positive and negative issues in the workplace. "From the employee's perspective, it certainly is nice to know that your employer appreciates that this is a challenging time for women, and would support a woman taking this time off if necessary. But I do think it's awkward for a woman to approach a male employer," said Kay, president and lead consultant of Peak Performance Human Resources. "There would need to be resources in place or support systems in place to make it feasible for women to take advantage of this." From an HR perspective, Kay expressed concerns over instituting a policy that would benefit a portion of the company's workforce. "It really only represents a small demographic of employees who suffer from this particular ailment and it impacts their work. There's thousands of other things," said Kay. "Can employees who suffer from regular migraines take this time off? Can employees who suffer from arthritis and are unable to work take this time off? "I just think it does bring some challenges that employers are going to have to stumble through in order to make this a realistic and viable option for their employees." Ultimately, if employers want to institute menstrual leave, Kay said she would "fully support it." "I think there's a very important communications piece in the way that it's delivered to employees. It's going to have to be done sensitively as well, and the policy will have to be written in a way that's really clear in how it's implemented."