VANCOUVER — A long-running dispute between Vancouver and Canadian Pacific Railway (TSX:CP) over an old rail corridor through the centre of the city has been settled.
The city has agreed to pay $55 million for the railway route, which stretches nine kilometres and consists of almost 17 hectares of open space.
Mayor Gregor Robertson said Monday the agreement means the city will be able to transform the area into a greenway that connects neighbourhoods from False Creek near downtown to Marpole on the Fraser River on the south side.
Part of the corridor is also slated for use as a light-rail, rapid transit system, which Robertson said would operate alongside the public greenway that will be available for walking and cycling.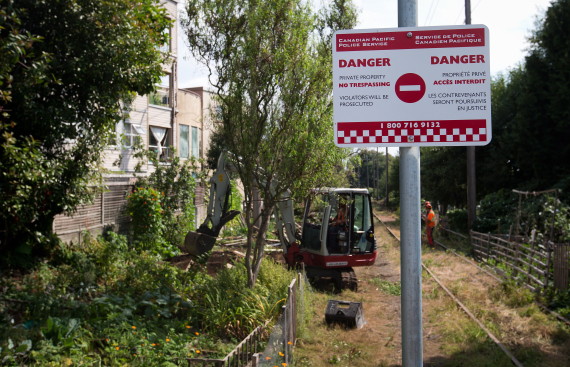 Workers destroy and remove community gardens from a stretch of abandoned CP Rail line in Vancouver, on Aug. 14, 2014. (Photo: Darryl Dyck/The Canadian Press)
Residents have been growing gardens and planting trees on the land for over a decade.
Talks on the sale had broken off. Then in 2014, the city said CP planned to start clearing the Arbutus corridor for railway use again.
Robertson said there was a change in heart by both parties late last fall that led to the deal.
Keith Creel, CP's president and chief operating officer, said the agreement is positive for the city and the railway.
"This has been a very contentious issue for Canadian Pacific and the City of Vancouver, probably for the last decade," Creel said. "With that said, the history of CP in Vancouver dates back to its origins, over 130 years. It's a been a positive relationship. It's one that we valued."
"This is really Vancouver's chance to have a New York-style High Line, repurposing of what was freight railroad."
CP stopped running trains on the line about 14 years ago.
Robertson compared the development to a revitalized part of New York City that has seen an old rail line turned into a park.
"This is a historic agreement and a one-in-a-generation opportunity for our city," he said. "This is really Vancouver's chance to have a New York-style High Line, repurposing of what was freight railroad."
He said the city will establish an office to oversee the design of the greenway and it will make improvements to the railway corridor before the long-term plan is finalized.
Under the agreement, CP will remove existing rails and ties within two years.
Also on HuffPost:
Arbutus Corridor Bulldozed