It's Lilly Wachowski.
One-half of the directing duo behind "The Matrix," "Bound" and "Cloud Atlas" came out as transgender on Tuesday, after previously being known as Andy.
Second Wachowski sibling comes out as transgender https://t.co/vVn5ToEZZ6 pic.twitter.com/BabuDJAMi7

— Variety (@Variety) March 9, 2016
Wachowski came out in the Windy City Times, a Chicago-based newspaper focusing on the lesbian, gay, bi, trans and queer community.
She decided to go public after a Daily Mail reporter approached her on her doorstep and asked her to comment for a story about her gender transition.
UPDATE: March 9 -- The Daily Mail issued a statement on Wednesday saying, "we were only interested in reporting the story if and when she was happy for us to do so and with her cooperation. Our reporter was extremely sympathetic and courteous at all times, as is obvious from our transcript of the exchange. Indeed the conversation with our journalist ended with Ms. Wachowski agreeing to call him the following day."
That encounter came as part of a heartfelt essay that expanded on her decision to come out.
Here's an excerpt from Lilly's essay:
"...these words, 'transgender' and 'transitioned' are hard for me because they both have lost their complexity in their assimilation into the mainstream. There is a lack of nuance of time and space. To be transgender is something largely understood as existing within the dogmatic terminus of male or female. And to 'transition' imparts a sense of immediacy, a before and after from one terminus to another. But the reality, my reality is that I've been transitioning and will continue to transition all of my life, through the infinite that exists between male and female as it does in the infinite between the binary of zero and one. We need to elevate the dialogue beyond the simplicity of binary. Binary is a false idol."
LGBT advocacy organization GLAAD praised Wachowski's decision to reveal she's transgender in a statement on its website.
"GLAAD is thrilled that Lilly Wachowski is able to be her true and authentic self today, however, she should not have been forced to disclose her transgender identity before she was ready to do so," director of programs for transgender media Nick Adams said.
"Journalists must learn that it is unacceptable to out a transgender person, in the same way it is unacceptable to out a person who is gay, lesbian, or bisexual."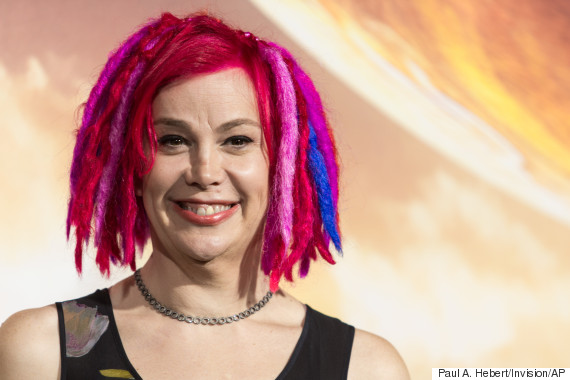 In this Feb. 2, 2015 file photo, filmmaker Lana Wachowski, Lilly's sister, attends the premiere of Warner Bros. Pictures' "Jupiter Ascending" at TCL Chinese Theatre in Hollywood, Calif.
With sister Lana, who came out as transgender in 2012, Lilly also directed "Speed Racer" and "Jupiter Ascending."
The duo also served as screenwriters on 2006's "V for Vendetta" and created the Netflix series "Sense8."
Like Us On Facebook

Follow Us On Twitter

Also on HuffPost: