For many women of colour, finding the perfect shade of makeup can be frustrating and utterly disappointing.
There is an endless battle in finding the right foundation or that correct shade of red lipstick to match dark skin tones. Even high-profile models are calling out the industry for not providing enough makeup artists that are "competent with all races."
But now, there's finally an easy way for women of colour to find their perfect shades of makeup, and it's all in thanks to an app created by a beauty blogger.
Cocoa Swatches, developed by Ofunne Amaka, is an app which "showcases the latest makeup swatches on various complexions underrepresented by the industry." The app allows users to "discover new and old makeup products through the CS swatch and review system," and browse marketed products that are best suited for them. The platform also allows beauty lovers to learn makeup tips and tricks from the experts.
"When I first started the Cocoa Swatches Instagram account, I really didn't have a vision for what it would be or what it could be. All I knew was that doing my makeup was a creative extension of personality, BUT, I was lacking the tools I felt I needed to properly indulge in this practice," Amaka writes on her website. "It turns out that many others feel the exact same way."
The 26-year-old addresses that the beauty world does indeed face a number of problems when it comes to diversity. She writes how "darker complexions" are being "underrepresented in advertisements" and "ignored in product development."
"It's really infuriating when a new foundation or concealer comes out and there is only one dark shade meant to encompass all dark complexions," Amaka explains. "This is why Cocoa Swatches is so important to me."
She continues, "As I began to learn more and more about the beauty world, it became clear that many beauty brands make it difficult for women of colour, especially women with darker complexions, to make accurate purchasing decisions. And it's not just about colour of skin, its about one's undertone as well."
And Amaka's aim at educating her users is taking flight. Many who have downloaded the app are giving rave reviews.
"As a woman of colour I feel like this is the perfect app for me," one iTunes review states. "Instead of wasting time searching for shades that look good on my skin tone...this app already has everything laid out. I love the different categories based on the type of lip colour you're searching for."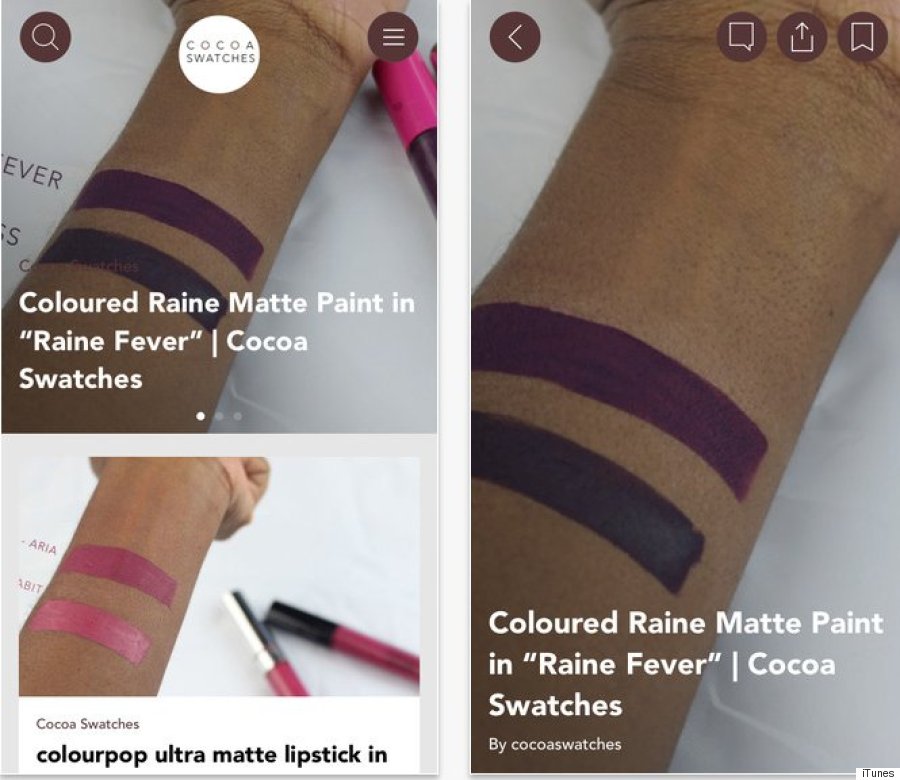 With the introduction of Cocoa Swatches and Sephora's Virtual Artist, the beauty world is being forever changed by those little apps we keep on our phones.
Follow Huffington Post Canada Style on Pinterest, Facebook and Twitter!
Also on HuffPost