Tilikum the killer whale's difficult life may be reaching its end.
The orca that became a poster whale of sorts for a campaign to end cetacean captivity is being treated for a respiratory condition that could well kill him down the road, SeaWorld said Tuesday.
"I wish I could say I was tremendously optimistic about Tilikum, and his future, but he has a disease which is chronic and progressive and at some point might cause his death," veterinarian Dr. Scott Gearhart said in a health update posted to YouTube.
"We have not found a cure for this disease at this point."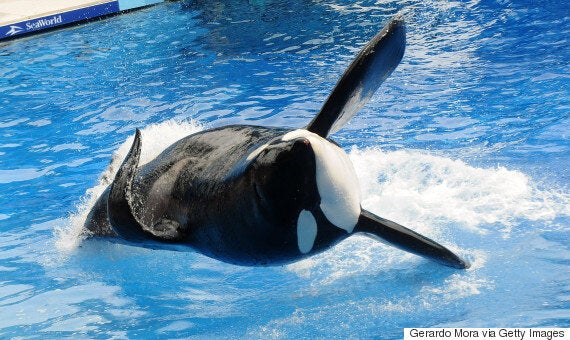 The disease is found in a variety of species and Tilikum is receiving antibiotics he injects through eating fish.
"If Tilikum had shown up with this disease in the wild, there's no doubt he would have been gone a long time ago," Gearhart said.
Tilikum became the focal point of an anti-captivity movement after he was the subject of the 2013 documentary "Blackfish."
The film recounted his life, beginning with his capture and captivity at Sealand of the Pacific in Oak Bay, B.C.
There, Tilikum was confined to a small pen, and he had difficulty bonding with fellow whales who would "rak[e] him" with their teeth, The Times-Colonist reported.
Sealand shut down following the incident.
Tilikum was later sold to SeaWorld Orlando, where he would be named in the 1999 death of a man who slipped into his pool after the park closed. Bite marks were found on the man's body, but it was never determined whether the whale drowned him.
Then in 2010, trainer Dawn Brancheau was killed after Tilikum pulled her from the side of a tank and submerged her beneath the water, the LA Times reported.
"Blackfish" proved to be a very popular documentary, its impact manifested in efforts to end cetacean captivity across North America.
Kiska, an orca that lives at Marineland in Niagara Falls, was exempted from the bill.