Chris Jongkind via Getty Images
One-quarter of Ontarians have crippling housing costs
UN warns of rising evictions, growing homelessness
Advocates say Canada must recognize right to adequate housing
As housing costs rise rapidly in parts of Canada, advocacy groups and economists are raising the alarm about eroding affordability. Now the UN's Committee on Economic, Social and Cultural Rights is adding its voice to the chorus.
A committee report released Friday says Canada faces a "persistent housing crisis" and governments must do more to address the issue.
The committee said it was particularly alarmed at the "absence of a national housing strategy; insufficient funding for housing; inadequate housing subsidy within the social assistance benefit; shortage of social housing units; and increased evictions related to rental arrears."
The report comes as evidence mounts that housing affordability is deteriorating in Toronto and Vancouver, which have seen double-digit house price growth in the past year, and rental rates rising at 3 to 4 per cent annually. The Royal Bank of Canada warned last week that housing in these two cities is reaching "dangerously unaffordable" levels.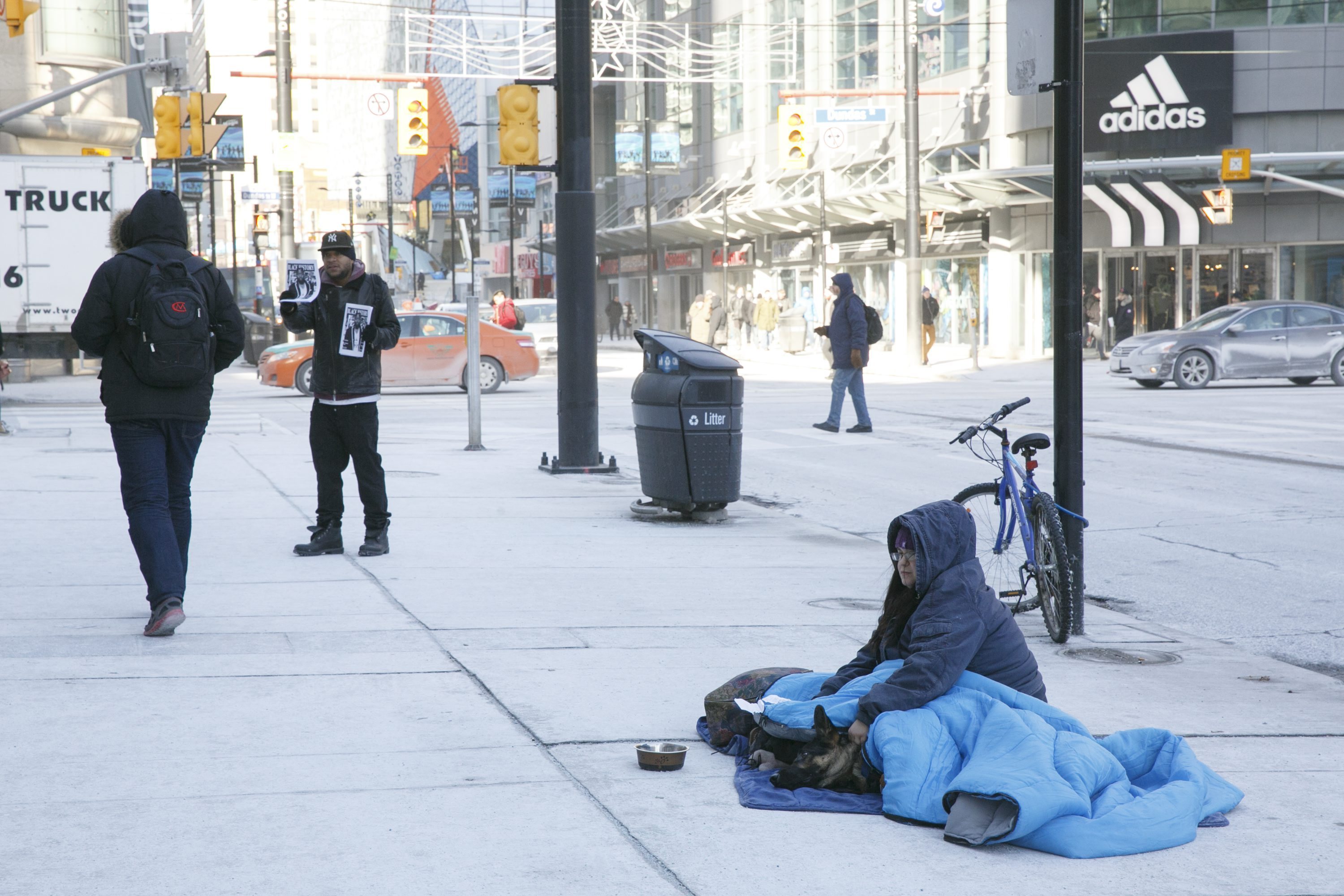 A person huddles in sleeping bags near the Eaton Centre in Toronto, Ont., Jan. 7, 2015. A new UN report says homelessness is on the rise in Canada. (Canadian Press photo)
Another study suggests the problem is not limited to Toronto and Vancouver — and younger people are bearing the brunt of it. The study from the Canadian Centre for Economic Analysis (CANCEA) found that, nationwide, Canadians spend 38.5 cents on housing for every dollar they have after core expenses such as food, clothing, debt and child care.
But one-quarter of Ontario residents spend nearly twice that — at least 62 cents for every dollar on housing. And 60 per cent of these people are under the age of 45.
"A lot of the pain we're seeing is in the middle class and among under 45-year-olds," CANCEA president Paul Smetanin told the Globe and Mail.
But the UN also sees pain at the lower end of the economic ladder. It says Canada is seeing an increase in homelessness and an increase in evictions due to unpaid rent.

Housing affordability in Toronto is the worst it's been in decades, while in Vancouver it is the worst on record, according to data from RBC. (Charts: RBC)
The UN reviewed Canada's housing policies in the context of the country being a signatory to the International Covenant on Economic, Social and Cultural Rights. That treaty asserts "the right of everyone to an adequate standard of living for himself and his family, including adequate food, clothing and housing."
But Canadian courts have balked at declaring a right to affordable or adequate housing. The Supreme Court last year declined to hear a case in which Toronto social activists were pushing to have affordable housing declared a right.
Those groups, which took their case to the UN committee, applauded its report this week.
"A committee of international human rights experts was able to see what the Canadian government [refuses] to see — that we are failing to protect a large and vulnerable portion of our population from violations of their fundamental right to housing," Kenneth Hale of the Advocacy Centre for Tenants Ontario (ACTO) said in a statement.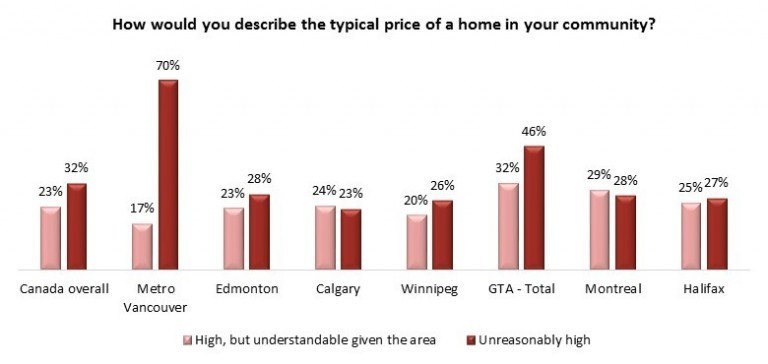 A poll from Angus Reid, released in February, found two-thirds of Canadians want the government to intervene in the housing market somehow. A majority in most major cities say house prices are high or too high. (Chart: Angus Reid)
In a survey released last month, pollster Angus Reid said two-thirds of Canadians would like to see the government intervene somehow in the housing market. The survey found Canadians clear across the country are concerned about the cost of housing, despite the fact that rising housing costs have lately been limited to Toronto and Vancouver.
The UN committee is urging Canadian governments to spend more money on ensuring an adequate supply of affordable housing, to tighten tenants' protections against eviction, and to repeal laws that penalize homelessness, such as municipal anti-camping bylaws, among other things.
"All eyes are on Canada now to see if the new Liberal government will show that it is indeed serious about real change by complying with its international human rights obligations," ACTO's Helen Luu said.
Also on HuffPost