Almost everyone has struggled with his or her own body image issues.
Whether it's wanting to be taller, short, slimmer, curvier, loving our bodies is often one of the biggest challenges we face in our lives, especially with unrealistic ideals put in place by the media.
Artist Jody Steel recognized these struggles and decided to create a time-lapse video to express the challenges she has faced with her own body.
Using paint and a marker, the U.K.-based artist draws on her stomach to create the illusion that her abdomen is being twisted into a very tight knot. As the video goes on, the image becomes more vivid, with the end result truly depicting a tightened stomach.
"There have been times I've look (sic) in a mirror and wished for a perfect figure," Steel writes in a comment on the video. "Once I realized that naturally, I don't have a Coke bottle figure, or long and thin legs, I began to let go of the pressures I've felt to fulfill an image that our society has deemed the pinnacle of beauty."
In just over 24 hours, the video has already garnered 41 million views on Facebook, with plenty of people sharing their own body image struggles in the comments.
"That was beautifull (sic) and terrifying," writes one commenter. "Im (sic) a person who had anorexia. Its (sic) still in me but i eat normal and have a normal weight (even a bit to [sic] much!) But this hits home."
"I've been made fun of and struggled with my weight my whole life," writes another. "Body image is a huge thing in my family. Im the only thick one of four girls and one boy. I've pushed myself to have the perfect body and realized after I had my daughter that every one has their own perfect body. I now struggle with the extra skin from having three kids. Exercise and eating right still has no effects. The only reason I smile at my body is because it gave me 3 beautiful children."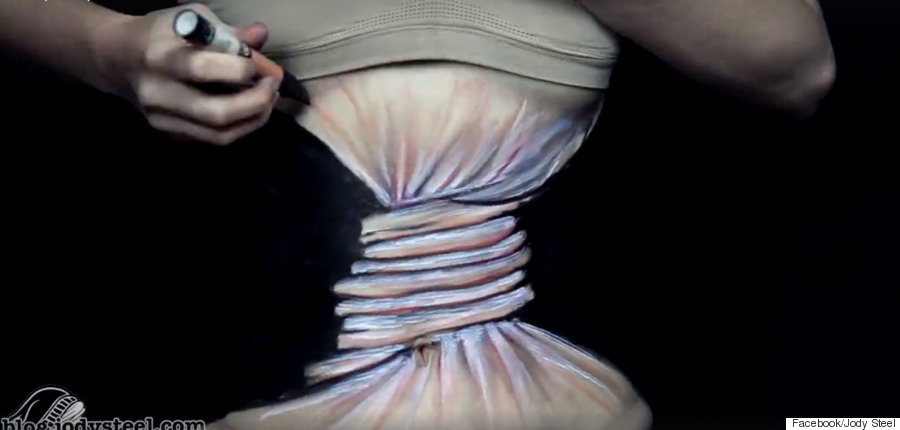 Others touched on Steel's artistic talent and shared their appreciation that the video was gender neutral.
"This is absolutely fantastic and I really appreciate that the title of the piece is not gendered! The conversation increasingly needs to be more and more inclusive when it comes to issues of body image. Thanks for the fantastic artistic display!" writes one user.
However, some viewers felt the video was promoting an unrealistic and unhealthy image, which Steel later writes is "not true at all."
"I do still work towards goals, but not towards body image goals that are unrealistic for my body type. I'll never be able to have model long legs or large breasts genetically. But I've set realistic goals for myself and that's the point. I eat food that makes me happy and go to the gym a healthy amount. There's a balance."
Watch the mesmerizing video above.
Follow Huffington Post Canada Style on Pinterest, Facebook and Twitter!
Also on HuffPost