The power of a Kim Kardashian shows no bounds.
First came the fully nude "when you're like I have nothing to wear LOL" throwback selfie...
Then came the Twitter rants following the celebrity backlash from Bette Midler, Chloë Grace Moretz and Piers Morgan...
hey @piersmorgan never offer to buy a married woman clothes. thats on some ashley madison type shit #forresearch

— Kim Kardashian West (@KimKardashian) March 8, 2016
hey @BetteMidler I really didn't want to bring up how you sent me a gift awhile back trying to be a fake friend then come at me #dejavu

— Kim Kardashian West (@KimKardashian) March 8, 2016
let's all welcome @ChloeGMoretz to twitter, since no one knows who she is. your nylon cover is cute boo

— Kim Kardashian West (@KimKardashian) March 8, 2016
And now, Kim Kardashian is fighting back against the haters once again, this time with a new post on her website/app addressing the issues of body and slut-shaming.
Entitled "Happy International Women's Day" (which occurred on Mar. 8th), Kim penned the #straightup note in response to the comments she has been receiving after posting a photo of herself nude in front of a mirror.
"I never understand why people get so bothered by what other people choose to do with their lives," the mother of North and Saint West writes. "I don't do drugs, I hardly drink, I've never committed a crime — and yet I'm a bad role model for being proud of my body?"
#liberated pic.twitter.com/5UVNrokpBc

— Kim Kardashian West (@KimKardashian) March 8, 2016
The 35-year-old then goes on to note how her choice to show off her body always seems to circle back to her sex tape.
"I lived through the embarrassment and fear, and decided to say who cares, do better, move on. I shouldn't have to constantly be on the defense, listing off my accomplishments just to prove that I am more than something that happened 13 years ago.
"I am empowered by my body. I am empowered by my sexuality. I am empowered by feeling comfortable in my skin. I am empowered by showing the world my flaws and not being afraid of what anyone is going to say about me. And I hope that through this platform I have been given, I can encourage the same empowerment for girls and women all over the world."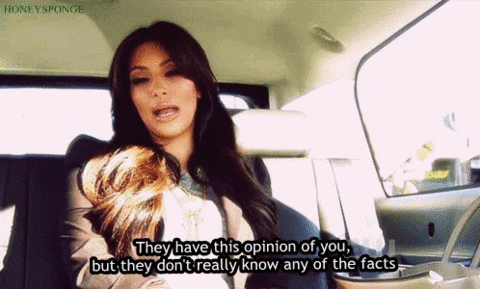 "It's 2016. The body-shaming and slut-shaming—it's like, enough is enough. I will not live my life dictated by the issues you have with my sexuality. You be you and let me be me. I am a mother. I am a wife, a sister, a daughter, an entrepreneur and I am allowed to be sexy."
And other prominent female celebrities are backing Kim up and expressing their support for the reality star:
Ariel Winter from "Modern Family"
No one was body shaming @justinbieber when he posted his nude guitar photo so why @KimKardashian? #herbodyherchoice #InternationalWomensDay

— Ariel Winter (@arielwinter1) March 8, 2016
I think everyone, men and women, should have the right to choose what they do with their bodies-- and not be criticized.

— Ariel Winter (@arielwinter1) March 8, 2016
Rowan Blanchard from Disney Channel's "Girl Meets World"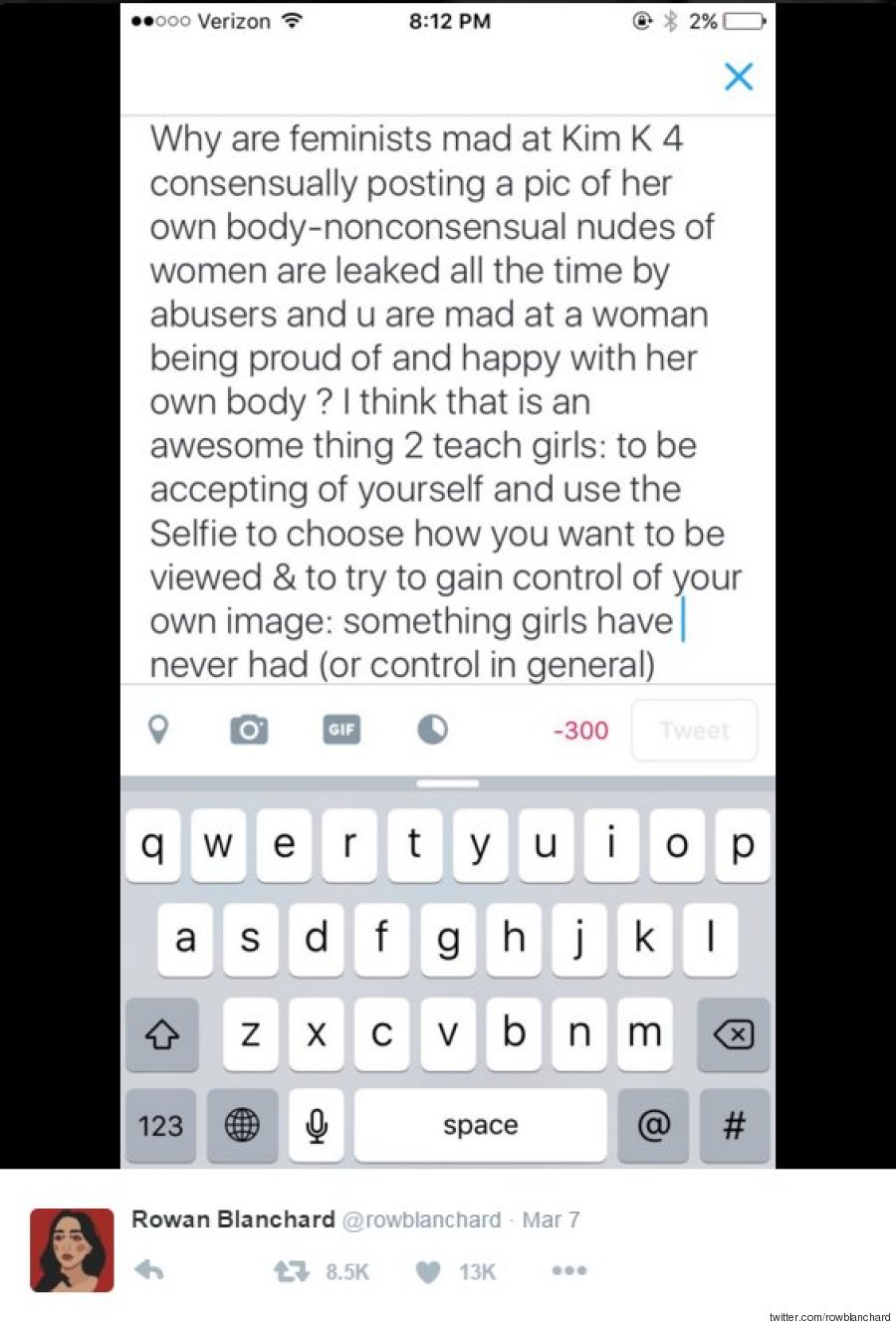 Girls being nude publicly isn't new:but isn't it nice when they can be the subject of the image, &the portrayer too? pic.twitter.com/7Ac07O8U6l

— Rowan Blanchard (@rowblanchard) March 8, 2016
Emily Ratajkowski
Love when a man comments on a woman's decision to post a nude photo. Her body, her career. Sexist bullsh*t. @KimKardashian

— Emily Ratajkowski (@emrata) March 8, 2016
Also love that when a woman stands up for herself everyone thinks it must be her dude speaking for her. @KimKardashian

— Emily Ratajkowski (@emrata) March 8, 2016
This is in relation to many suggesting Kanye West was tweeting in Kim's place:
Wait I can't believe people thought Kanye or Khloe hacked my Twitter. I swear I'm funny too!!!

— Kim Kardashian West (@KimKardashian) March 8, 2016
Bella Thorne
.@chloemoretz_ @KimKardashian I think every woman should be allowed to make their own choices with their OWN bodies soo..

— bella thorne (@bellathorne) March 8, 2016
Abigail Breslin
Anybody who tries to say how a woman chooses to display their OWN body is wrong, is severely misinformed and misguided.

— Abigail Breslin (@yoabbaabba) March 8, 2016
Miley Cyrus
Yes, even though Cyrus doesn't drop Kim's name in the post, that is indeed a Kimoji (butt).
Amber Rose
Rose criticizes Pink's comments, which were believed to be targeted at Kardashian.
Demi Lovato
Damn straight, Demi!
Celebrity status aside, we applaud Kim for finding empowerment in showing off her female form and making that clear. And as Elite Daily writes, "Whether she chooses to exist in the public eye, walk around butt-naked or join a nunnery, no woman deserves to be picked apart ceaselessly for her benign actions."
Bravo.
Follow Huffington Post Canada Style on Pinterest, Facebook and Twitter!
Also on HuffPost
The Year In Kim Kardashian Selfies