Getty
TORONTO — The Canadian dollar zipped back above 75 cents US this morning, gaining more than half a cent. The loonie was at 75.23 cents US about an hour after the Bank of Canada announced its key interest rate will remain at 0.5 per cent. The currency had been about even with the previous close of 74.54 cents US shortly before the central bank's announcement.  Meanwhile, the Toronto Stock Exchange and major U.S. markets were moderately positive this morning. The S&P/TSX composite index was up 84.97 points or 0.6 per cent at 13,396.02 after 90 minutes of trading.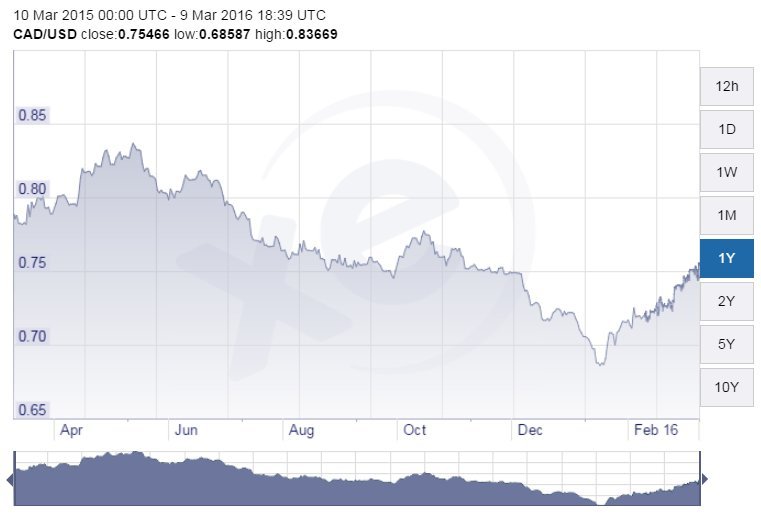 The Canadian dollar has started climbing again, after bottoming out in January. (Chart: Xe.com)
The Dow Jones industrial average was up 22.16 points or 0.1 per cent at 16,986.26, the broader S&P 500 composite index advanced 5.06 points or 0.3 per cent to 1,984.32 and the Nasdaq composite gained 5.91 points or 0.1 per cent to 4,654.73. The April crude contract was up $1.50 at US$38 per barrel, and April natural gas was up 4.6 cents at US$1.76 per mmBtu. The April gold contract fell $8.80 to US$1,254.10 an ounce and May copper contracts rose three cents to US$2.25 a pound.
Canadian Dollar Through History