After a bit of a break-up, it seems like Tim Hortons and Nutella are back together in full swing.
The Canadian-favourite coffee chain announced the launch of two new Nutella-filled treats on Wednesday.
"Our guests fell in love last year with the perfect pairing of baked goods from Tim Hortons that are filled with Nutella, so it was only a matter of time before we got them back together," president and COO David Clanachan of Tim Hortons said in a statement. "Some things are just meant to be."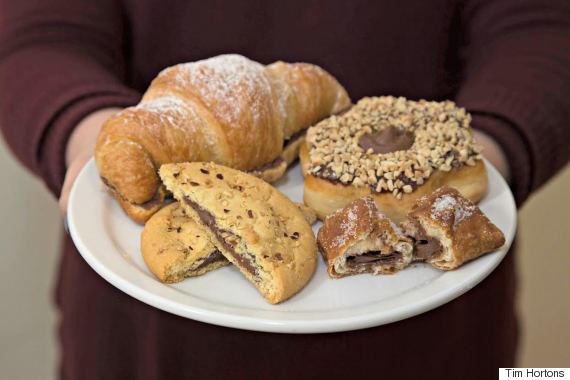 And they really are. This year's two new additions include a Nutella-filled butter croissant sprinkled with sugar and a cookie filled with Nutella topped with crushed hazelnuts.
Last April the chain released the first two Nutella-inspired pastries including a chocolate hazelnut dougnut and a pastry pocket filled with the spread. Both items will also be available with the new Nutella treats.
And if you're in Toronto and at one of the city's two Nutella Cafes, you can also pick up a Nutella drizzled croissant for $3.66. Or you know, dip your own butter croissant in a jar of the good stuff.
And hurry, both Tim Hortons products (as well as older Nutella collabs) will only be in stores for a limited time starting Wednesday.
ALSO ON HUFFPOST:
What Dietitians Would Eat At Tim Hortons