The slaying of Cpl. Nathan Cirillo while he stood guard at the National War Memorial in Ottawa galvanized the country, but now a Conservative MP is using his death to peddle Easter hams in a bizarre fundraising campaign.
Cheryl Gallant, who represents the Ottawa Valley riding of Renfrew-Nipissing-Pembroke, made the fundraising pitch in a March 2 email to supporters with the all-caps subject line TERRORISTS IN OUR MIDST.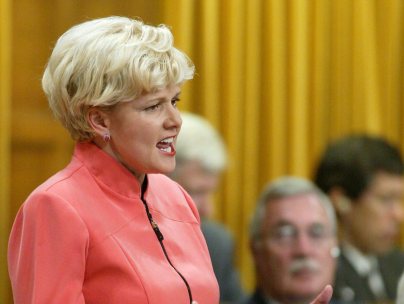 Cheryl Gallant is shown asking a question in the House of Commons in 2003. (Photo: Jonathan Hayward/CP)
The email is an assault on Liberal immigration policies, but it also includes a picture of Cirillo in military dress with the caption, "A Hero Forever In Our Hearts."
The text links the fast-tracking of Canadian citizenship for refugees and migrants to the reversal of a bill that revoked citizenship for dual citizens convicted of terrorist acts.
"Why do migrants need to be protected from losing newly granted Canadian citizenship if they are convicted of committing a terrorist act?" the email asks. "Is the Liberal Party afraid of alienating tens of thousands of new votes with the threat of deportation if any are convicted of terrorist activity?"
The email is punctuated with photos of Cirillo's killer and Parliament Hill attacker Michael Zehaf-Bibeau and Toronto 18 bomb plotter Zakaria Amara.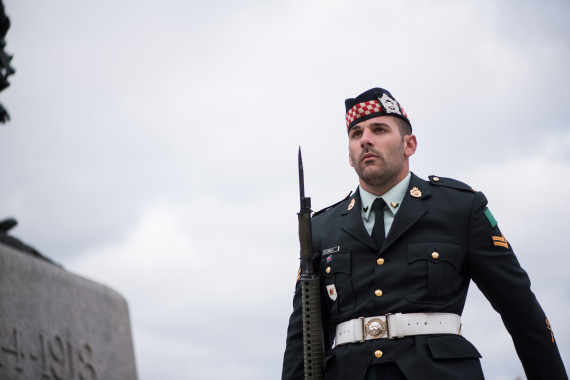 Nathan Cirillo is shown standing guard at the National War Memorial. (Photo: Guillaume Hache)
At the bottom of the email a red "Order Now" button leads to an Easter fundraising campaign where donors are told they will be rewarded with a ham, though the website cautions the ham is only available to residents of Renfrew-Nipissing-Pembroke.
Veteran 'incensed'
"I was incensed and very disappointed, saddened just to see that low-class type of mentality to raise some money," said navy veteran D.W. Antler, who first raised this issue on his blog. "The Canadian Armed Forces protects Canada. It doesn't assure the finances of any political party."
Antler also criticized Gallant for linking Cirillo's death to refugees and immigrants. "They're their own issues. Nathan Cirillo was killed by a Canadian on Canadian soil."
Gallant didn't make herself available to reporters after question period. But interim Conservative Leader Rona Ambrose blamed the pork-laden pitch on Gallant's riding association.
"She herself has taken that back and apologized for it. So I think that was the right thing to do," Ambrose told reporters.
"I couldn't believe it. How inappropriate is that?' said Liberal MP Karen McCrimmon.
McCrimmon, who represents Kanata-Carleton, spent 31 years in the Canadian military and retired as a lieutenant-colonel. When she first heard of the fundraising pitch, she didn't believe it was real.
"I was incredulous. How insensitive is that? I'm almost speechless."
NDP MP Charlie Angus blasted the fundraising pitch on his Facebook page.
&nbsp
"I guess I shouldn't be shocked by the latest antics of Cheryl Gallant, but this one is really distasteful," Angus wrote. "The tragedy that occurred at the War Memorial should stand for something more than a politician trying to cash in with ham sales for the political pork barrel."
In an email to CBC News, Conservative Party spokesman Cory Hann said the content of the email wasn't appropriate and that any donations would be redirected.
"We understand that in lieu of accepting any donations from it as political contributions, Ms. Gallant has instead decided to have her EDA (electoral district association) donate to the Stand on Guard Fund in support of the families of Warrant Officer Patrice Vincent and Corporal Nathan Cirillo."
Cirillo, 24, was killed while standing guard at the National War Memorial on Oct. 22, 2014. It was the start of Zehaf-Bibeau's solo attack on Parliament Hill that ended in a gun battle in the halls of Centre Block with House of Commons security and the RCMP.
Also on HuffPost
Fallen Soldier Nathan Cirillo