Fraternal twins rarely look the same, but these babies are one in a million.
Michigan mom Briana Laws' two baby girls, Aila and Adalynn, have different skin tones.
"It's kind of a big deal. I guess it's a good way to be able to tell them apart," Laws joked to Fox 17. She told the news outlet that she wondered whether they were switched at birth.
But the girls are all hers. Laws explains that she is partially African-American while her husband, Cameron, is white.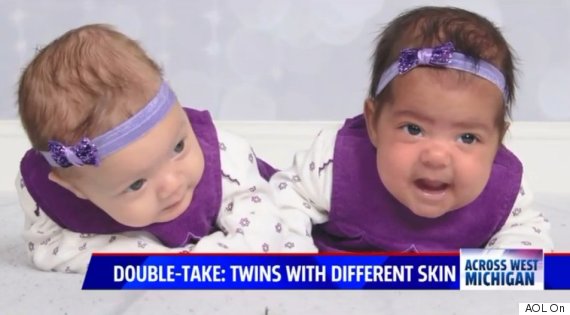 While this difference is rare, it's not unheard of. Hannah Yarker, who lives in Manchester, England, gave birth to twin girls last year, and told Metro U.K. that many don't believe they're related.
Her daughter Anaya takes after her, while sister Myla looks more like dad, Kyle. "We couldn't believe it. Kyle and I told all of our relatives and friends: 'We've got one of each.'"
In an even stranger twist, a mom from England gave birth to identical twin girls with different skin tones, believed to be the U.K's first instance of this phenomenon.
Although a sample of her placenta revealed that the girls were genetically identical, one has darker skin and brown eyes while the other is lighter with blue eyes.
Watch the video above to learn more about the twins in Michigan.
Also on HuffPost
These Baby Girls Are Twins