What do you serve friends who haven't come to dinner for 19 years? Alaskan halibut, pine nut crisps, and three different wines, according to the White House.
U.S. President Barack Obama will host Prime Minister Justin Trudeau for a state dinner on Thursday in the White House's East Room, marking a significant step in the two countries' bilateral relations.
The menu — designed to showcase the "anticipation of spring" — will feature an array of dishes including a main course of herb-crusted lamb drizzled with Canadian whisky.
Here's a sneak peek at what's on the menu: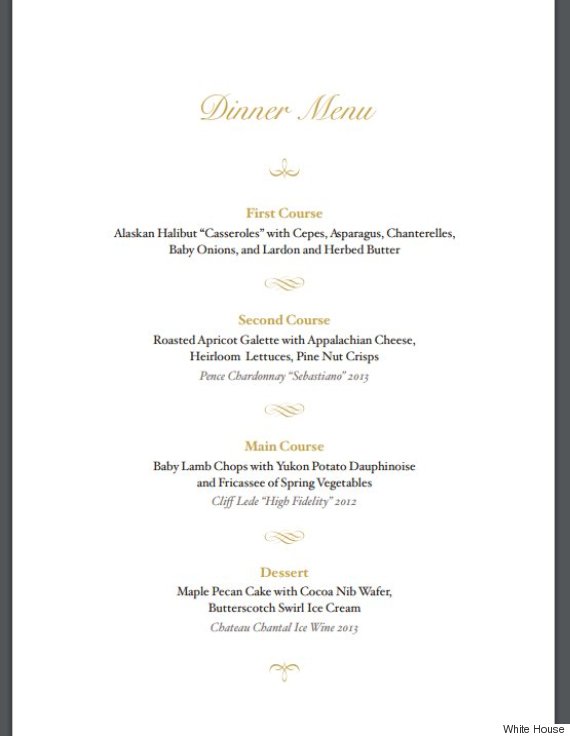 "Keeping with the dinner theme, the dessert course reflects the memory of winter and celebrates the coming of spring," states a press preview of the state dinner menu.
It goes on to describe dessert as a decadent cake "with delicate nuances of toasted Texas pecans and caramelized New England maple syrup" with "creamy, butterscotch swirl ice cream, vanilla scented California strawberries, and a crispy cocoa nib wafer."
The White House East Room, where Obama will host Trudeau for a state dinner Thursday. (Photo: White House)
The state dinner marks the first official visit by a Canadian prime minister to the U.S. in nearly two decades. White House executive chef Cris Comerford and executive pastry chef Susie Morrison are the creative forces behind the menu.
Aside from the symbolism of Obama and Trudeau formally breaking bread together, one will only have to look at the dinner China on Thursday for another sign of the "special relationship" developing between the U.S. and Canada.
According to the White House, the occasion will mark the first time individual tureens will be used from the Obama State China service.
Fancy.
Also on HuffPost:
Justin Trudeau: The Global Town Hall