The Trudeaus have landed in Washington, D.C. for a historical visit, and Sophie Grégoire-Trudeau is doing it in (Canadian) style.
Accompanying her husband on his first prime ministerial visit to the United States, the mother-of-three donned the "Yazmin" Ellie Mae jacket to the Canada 2020 reception that took place at the Renwick Art Gallery Wednesday evening.
Sophie Gregoire-Trudeau poses for a pic, wearing all Canadian designers #statevisit pic.twitter.com/KPeknYo1kT

— Meagan Fitzpatrick (@fitzpatrick_m) March 10, 2016
The easy fit lace and leather botanical jacket, which was paired with a simple white dress by Judith & Charles and an Ela peach-coloured clutch, fitted the 40-year-old beautifully with its high rounded neck, making it the perfect ensemble for the cocktail-like reception.
As for Ellie Mae, the Toronto-based designer who describes her collection as "vintage-inspired eclectic patterns with modern street style," her first reaction of seeing Sophie in the garment was surreal.
"After it sunk in I was overwhelmed with excitement. It's one of those feelings that only happens a few times in someones life," she tells HuffPost Canada Style via email.
The designer admits she had an idea that the Prime Minister's wife would sport the jacket in Washington, but for which event was still up in the air.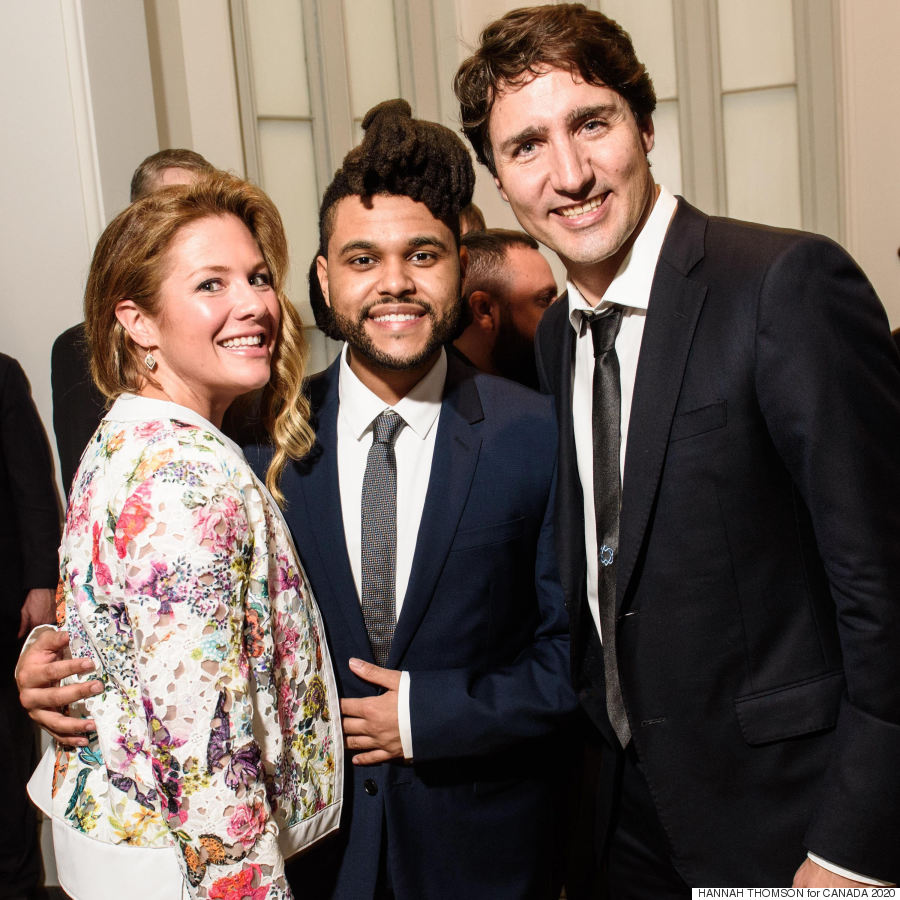 Sophie Grégoire-Trudeau poses with husband Prime Minister Justin Trudeau and Toronto's own, The Weeknd, at the Canada 2020 reception
"Our team works closely with Sophie's stylist, Jessica Mulroney, and with her partnership we were able to dress Sophie in our collection at such an important event."
And this isn't the first time Sophie has opted for a frock by the Central Saint Martins-educated designer — the Montreal-native is clearly a fan of the brand having worn the 'Sheila' jacket during the Prime Minister's speech on International Women's Day.
As for what she wore upon her arrival into Andrews Air Force Base with her family, Grégoire-Trudeau chose a grey, low-plunging two-piece suit with cream detailing from Vietnamese-Canadian designer, DUY, and a Haollan high heel from Aldo.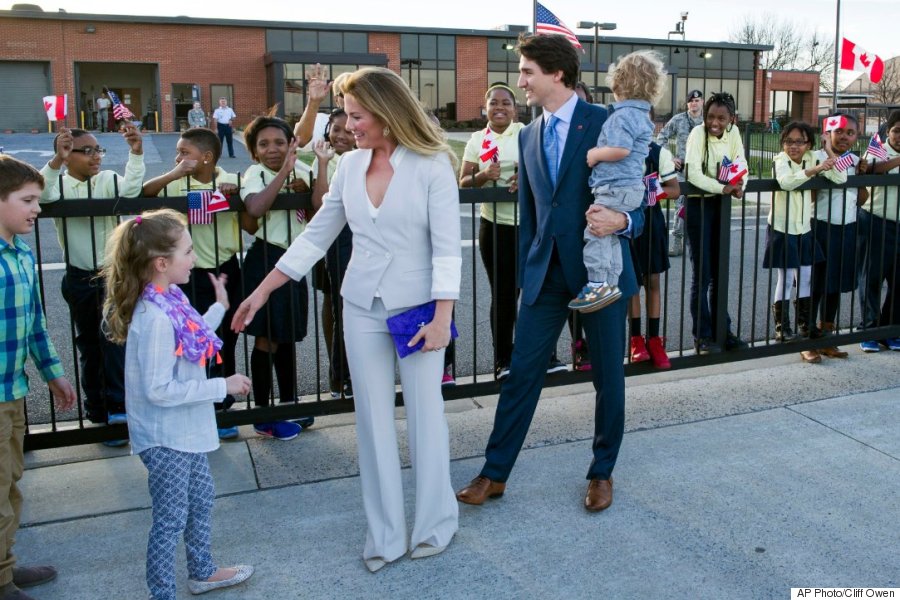 "I saw her on my phone and the suit looked amazing on her," Duy Nguyen, who is based in Montreal, tells etalk. "She has great legs and gorgeous skin, very easy to dress. Oh, and it was fun doing a fitting in Rideau Hall. I am so honoured to be chosen from so many great designers in Canada."
On Thursday, Justin and Sophie will attend their state dinner hosted by President Barack Obama and First Lady Michelle, the first for a Canadian in 19 years.
Follow Huffington Post Canada Style on Pinterest, Facebook and Twitter!
Also on HuffPost