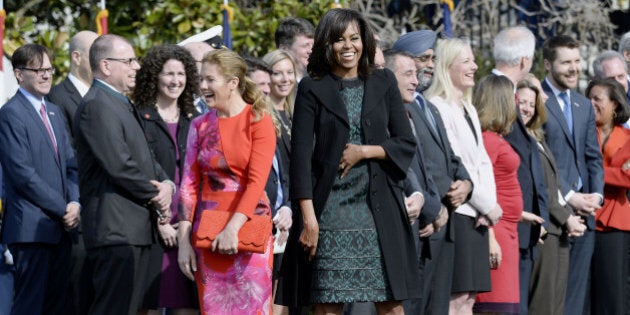 "Soul sisters" Sophie Grégoire-Trudeau and First Lady Michelle Obama took centre stage in Washington on girls' education.
Prime Minister Justin Trudeau brought his entire family on his first trip to the U.S. since being sworn into office. While Trudeau and President Barack Obama were in the Oval Office, their wives attended an event that put a spotlight on the importance of education for girls.
The Washington, D.C., event was hosted by Let Girls Learn in honour of International Women's Day.
"Like most women, I know how it feels to be overlooked, underestimated, to have someone only listen to your ideas in a meeting," Obama said to the crowd of 200 people.
Obama pointed out that 62 million girls around the world are not in school. She stressed that education is not just important for the students, but their entire families. "What if you were told you weren't going to get education?" she asked the crowd.
She also talked about the lengths some girls must go to, in order to get an education, including getting up before sunrise to do their chores before riding a bike for long distances to school. Education is so important to some girls that they are willing to risk rejection from their families and communities to go to school. Some, like Malala Yousafzai, risk their lives.
Obama and Grégoire-Trudeau seem to be getting along quite well during this visit. Obama introduced Grégoire-Trudeau as her "soul sister," who is the mom of three kids, including one "delicious" toddler (seriously, everyone loves Hadrien.)
Both women are passionate about empowering girls and women. "Canada truly understands that gender equality and gender empowerment is a priority," said Grégoire-Trudeau.
She went on to say that she doesn't think youth are the leaders of tomorrow: "I think young people are the leaders of today."
And then there was this moment... because sisters always have to look out for each other.
Here are some inspiring quotes FLOTUS tweeted about the event.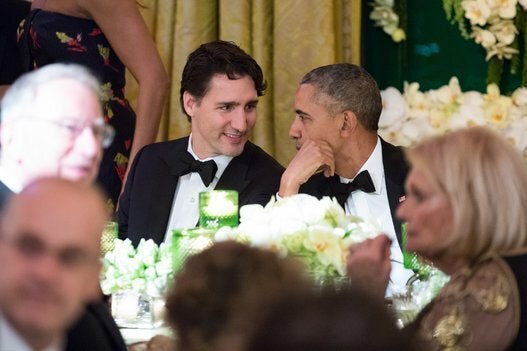 Trudeau's Historic Washington Visit