The Calgary Zoo has emerged victorious from a diplomatic meltdown with Toronto, after a politician from the 6ix intially said the city wasn't about to give away its adorable panda cubs.
On Thursday, Toronto Coun. Giorgio Mammoliti told CBC Radio's "Calgary Eyeopener" that — while the cubs' parents Er Shun and Da Mao will be headed west — the cubs would stay put before they go to China in 2018.
"You're not getting the cubs," he said. "Even if you want them, you can't get them."
The cubs' parents came to in Canada on a 10-year loan agreement with China that was signed in 2012.
That contract stipulated that the animals would spend five years at the Toronto Zoo, before they were relocated to the Calgary Zoo in 2018.
Mammoliti said the deal would only see the two adults go to Calgary, while the cubs would go back to China in two years' time.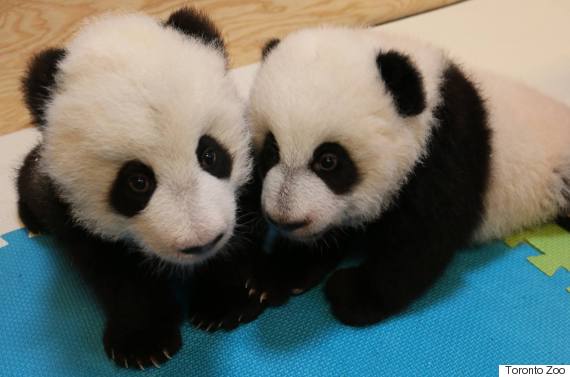 However, Calgary Zoo spokeswoman Trish Exton-Parder said the entire panda family would be coming to Alberta, The Calgary Sun reported.
"They were hoping for offspring, so we had to make the accommodations," she told the newspaper.
"Maybe they'll have more when they're here — anything's possible."
For his part, Mammoliti apologized and confirmed the family of pandas will indeed be heading to Calgary in 2018, according to CBC News.
"There's been a huge misconception on, I guess, on the interpretation of the language," he said. "This was what we all thought was the case here in Toronto."
Today I had the pleasure to unveil the names of @TheTorontoZoo's panda cubs! Say hello to Jia Panpan & Jia Yueyue: pic.twitter.com/iFCAlID7bc

— Justin Trudeau (@JustinTrudeau) March 7, 2016
The panda cubs have drawn plenty of attention after they were born on Oct. 13, 2015.
And on Monday, Prime Minister Justin Trudeau revealed the cubs' names as Jia Yueyue and Jia Panpan.
The cubs began taking "solid steps" last month, the Toronto Zoo said — though they were still struggling with the basics.
In the long run, Mammoliti hopes to petition the Chinese government to keep the animals in the Great White North.
He told the Eyeopener that he considers the cubs "Canadian citizens," and that they should stay where they were born.
Like Us On Facebook

Follow Us On Twitter

Also on HuffPost