COCHRANE, Alta. — A funeral for a young man being held at a quiet, rural cemetery west of Calgary erupted into chaos on Friday afternoon when gunfire broke out, sending four men to hospital.
It happened at a Muslim cemetery in the countryside near Cochrane, Alta., but by evening RCMP determined it was not a random attack and was not racially motivated.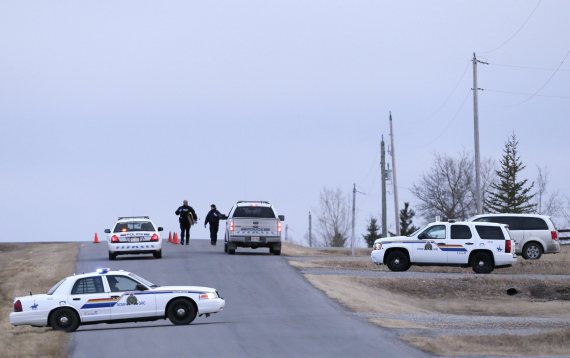 RCMP officers man a road block leading to a Muslim cemetery near Cochrane, Alta., March 11, 2016. (Photo: Mike Ridewood/CP)
A suspect or suspects were still being sought and the four victims were taken to hospital — driven there by others at the funeral — with non-life-threatening injuries.
Calgary Imam Syed Soharwardy said he spoke with two people who attended the funeral and they suspect the shooting was gang-related.
"It did not seem to be a hate crime," Soharwardy said. "It looks like it was a turf war or gang war or some type of revenge."
RCMP Cpl. Sharon Franks said the victims are all expected to recover and are co-operating with investigators.
She said police don't know yet if the crime was gang-related and noted the victims were all of the same race.
"People were quite suspicious because they had never seen so many young people attending a funeral."
"We do not believe that this is random incident," Franks said. "It appears that there were friends and family gathering for a funeral at this cemetery when an altercation broke out that ended with a gun fight.
"Obviously they were there to mourn a friend and a family member and this is one of those things that is hard to understand."
The funeral was for a 21-year-old Pakistani man named Hamza Nazir, said Soharwardy, adding he knows the young man's family but did not know how he died.
He said many young people from different ethnic groups showed up at the funeral and one group even stayed outside the cemetery fence.
"People were quite suspicious because they had never seen so many young people attending a funeral," said Soharwardy. "So after the burial, they just left."
The shooting happened moments later.
Sgt. Jack Poitras said there was no immediate danger to the public, but at Foothills Hospital in Calgary, where the injured were taken for treatment, armed officers and a tactical team guarded the entrance.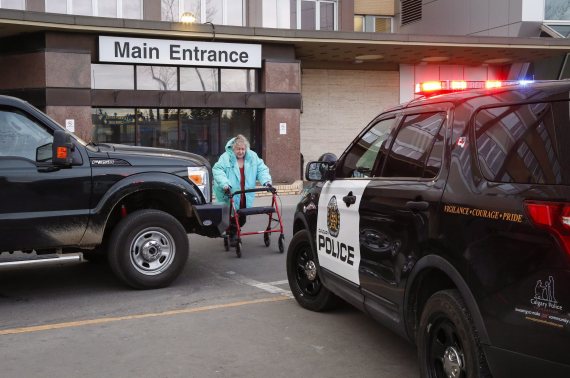 A Calgary police vehicle sits outside the Foothill Hospital in Calgary where victims are being treated, March 11, 2016. (Photo: Jeff McIntosh/CP)
RCMP cruisers were also still stationed at the cemetery, where manager Zouheir Osman was trying to understand what had taken place.
He said he had left after the funeral service concluded and was on his way back to Calgary when the shots were fired.
"I got a call from one of the neighbours here that there was a shooting," said Osman. "So I called back to see if the people who were left behind were OK and they said there was nothing. Then I kept going and heard it on the news and I started getting calls after that and I drove all the way back."
Osman said he didn't believe the shooting had anything to do with the man being remembered at the funeral.
"It has nothing to do with him," he said. "It was just a heart attack."
With files from Chris Purdy and John Cotter in Edmonton