U.S. president Barack Obama fudged the pronunciation of an Canadian city during his state dinner toast to Justin Trudeau on Thursday — but hey, it happens.
"Before I ever became president, when we celebrated my sister and Konrad's marriage, Michelle and I took our daughters to Canada," Obama said at the star-studded event at The White House.
"And we went to Burlington and —this is always tough — Mississ-swa-a-ga. Mississauga," he said.
A chorus of laughs rippled across the room as Obama recovered from his tongue twist trip.
"And then we went to Toronto and Niagara Falls," he said before giving the it another crack. "Mississauga. I can do that. And everywhere we went, the Canadian people made us feel right at home."
(Watch Obama's clip above.)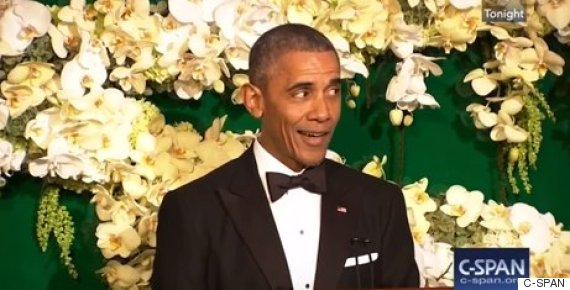 The name of the city stems from an Anishinaabe word meaning "river of the North of many mouths."
But Mississauga officials don't seem too bothered that one of the most powerful leaders in the free world gave the pronunciation of their city name a try — or three.
It's all good! It happens to the best of us @BarackObama...#Mississauga https://t.co/cjl1JPk5F2

— City of Mississauga (@citymississauga) March 11, 2016
It's OK, Mr. President, it's not like we can pronounce Schenectady, N.Y.
Also on HuffPost
Trudeau's Historic Washington Visit