The Obamas and Trudeaus hit it off at the state dinner in Washington D.C. last week, and the affair included the Trudeaus' extended family.
Hadrien continues to master the high-five even under pressure w @justintrudeau @potus #cdnpoli pic.twitter.com/wrhGk5ribJ

— Adam Scotti (@AdamScotti) March 10, 2016
Prime Minister Justin Trudeau's mother Margaret was in attendance on Thursday for her second state dinner (her first was with then-husband and prime minister Pierre in 1977). But two faces you may not have expected were Trudeau's in-laws, Jean Grégoire and Estelle Blais.
It's uncommon for the prime minister to invite in-laws along for the affair, and the National Post commented Trudeau may be the first world leader to ever do it.
For many, it was the first public introduction to Grégoire-Trudeau's parents. Trudeau noted how touched he was to have his in-laws there, adding, "Get a load of Estelle, I'm looking forward to the future with Sophie."
The resemblance is striking:
.@POTUS meets Sophie's parents while @JustinTrudeau takes it all in with his mother #cdnpoli #cdngingersnaps pic.twitter.com/liswUoFeTY

— Adam Scotti (@AdamScotti) March 12, 2016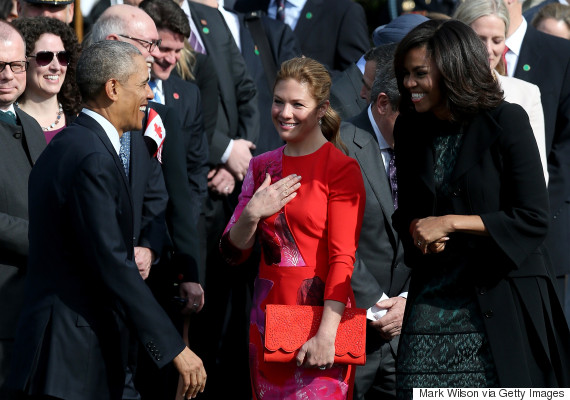 Grégoire-Trudeau is an only child. Jean Grégoire is a stockbroker and Estelle Blais is a former nurse. Sophie grew up in, Mount Royal, and neighbourhood of Montreal.
Her parents have been a great support system for Grégoire-Trudeau, who says she had an loving childhood.
After telling her mother she was suffering from bulimia as a teen and into her 20s, both her parents supported her getting help.
In 2013, La Presse reported she was sad to move to Ottawa when Trudeau won leadership of the Liberal Party, particularly because it meant moving from Mount Royal, and further away from her parents.
In an interview with Canadian Family, Grégoire-Trudeau says her mother helped her realize the importance of empathy toward others, which influenced her own charity work and advocacy for women's rights.
Also on HuffPost
Trudeau's Historic Washington Visit