George Pimentel via Getty Images
Canadian heartthrob Yannick Bisson won the Fan's Choice Award at the Canadian Screen Awards last night and no one's sad about it.
Bisson, who plays the #ArtfulDetective William Murdoch on the CBC's much-beloved show 'Murdoch Mysteries,' made sure to thank the fans who voted for him - all "80 bajillion of you according to William Shatner."
Who, by the way, was not surprised by the fans' choice.
Is anyone surprised? I'm not. I just hope he wrote a speech. 😉 https://t.co/7CXKz1gtzy

— William Shatner (@WilliamShatner) March 14, 2016
Bisson's on-screen wife also showed him some love.
Congrats to my TV Husband! #FanZone#CdnScreen16#MurdochMysteries@CBCMurdochpic.twitter.com/fwXiW0726r

— Helene Joy (@Helene_Joy) March 14, 2016
But most importantly, Bisson had an announcement to make.
"To all the fans that voted, I have something for you. I can officially announce we are doing CBC 'Murdoch Mysteries' Season 10, baby!"
Which means more head-scratching mysteries to solve.
More nail-biting action.
More zany antics.
More steamy romance.
More of whatever this is.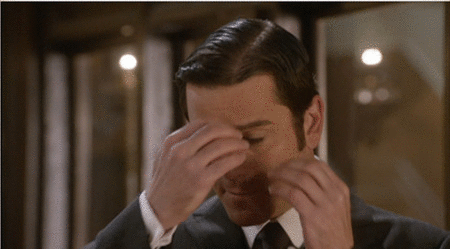 And maybe even some more wet Murdoch?
Which will certainly get fans feeling like...
And of course, more of that trusty hat!
ALSO ON HUFFPOST: