An Alberta toddler's death from meningitis is prompting health-care professionals to sound off on the danger of unproven, alternative medicine.
David and Collet Stephan pleaded not guilty in early March for failing to provide the necessities of life for their 19-month-old son.
Initially, the Stephans thought their son had croup, and treated him with natural remedies including ginger root, horseradish and onion.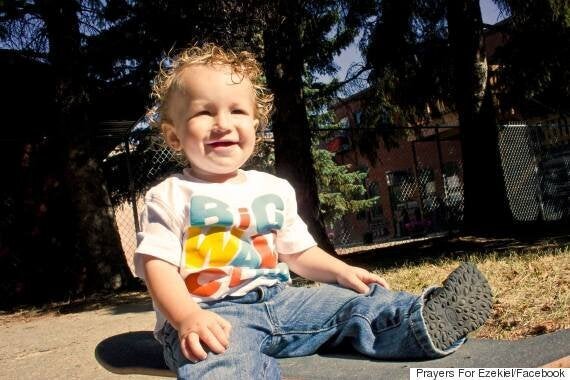 Ezekiel Stephan's parents did not seek medical care for their son after he contracted meningitis. (Photo: Facebook/Prayers for Ezekiel)
A family friend and registered nurse testified Wednesday that she told Ezekiel's mother he may have viral meningitis.
"I think you should take him to see a doctor," she testified as having said on March 11, 2012.
Instead, the couple decided to take him to a naturopath. Ezekiel's body was so stiff from illness he couldn't sit in his car seat, and had to lie on the floor of his parents' car as they drove to pick up echinacea for him.
They did not call 911 until Ezekiel had stopped breathing. He died a few days later from a combination of bacterial meningitis and a lung infection.
Was Ezekiel's death unnecessary?
Medical ethicist Arthur Caplan believes Ezekiel suffered unnecessarily for his parents' beliefs.
"When you have a little kid who is sick, seriously sick, and a nurse tells you that it might be meningitis and you continue to pursue interventions that clearly aren't working, you've got to bring that kid into a mainstream health facility," Caplan told The National Post.
David Stephan, Ezekiel's father, is an employee of Truehope Nutritional Support, a supplement company run out of Raymond, Alta. He's also the son of the company's co-founder, Anthony Stephan.
Truehope: controversial alternative medicine
Health Canada has issued warnings against Truehope a number of times for claims that its supplement, EMPowerplus, can treat bipolar disorder and other mental illnesses.
Prosecutors at the Stephans' trial claimed that Ezekiel was also treated with EMPowerplus before his death, according to CBC.
Alternative medicine no replacement for the real thing
One natural health practitioner in Edmonton says serious illnesses like meningitis need be treated by someone with actual medical training.
"When it is an acute disease of any sort, I do send them to the hospital," Dr. Harbakhash Sandhar, a practicing homeopath and medical doctor by training, told Metro News.
Sandhar said cases like Ezekiels make him worry about "Mickey Mouse homeopaths."
The Stephans are currently calling for donations on their Facebook page to help fund their court case. The pair have posted arguments that "the government" and "vaccine industry" are trying to "attack" their family in favour of a "vaccine agenda."
With files from The Canadian Press