Everyone's talking about what Sophie Grégoire Trudeau's wearing, and that's not necessarily a bad thing.
Grégoire-Trudeau has been adamant about supporting Canadian talent during her public appearances, often wearing head-to-toe Canadian ensembles for major events with her husband, Prime Minister Justin Trudeau.
With the help of her stylist and friend, Jessica Mulroney, the 40-year-old mother-of-three has managed to bring both established and up-and-coming homegrown talent onto the international stage, with global publications such as Vogue, WWD and the New York Times ID-ing her high-profile looks. She's also been known to rep a little Aldo from time to time, because what Canadian doesn't shop at Aldo?
Here's a recap of the Canadian designers Grégoire Trudeau has worn so far:
1. Greta Constantine

Worn at the International Women's Empowerment Leadership Conference & Gala.

2. Sentaler

Sophie wore several coats from the Canadian outerwear brand to various ceremonies, including Trudeau's swearing-in ceremony.

3. Lucian Matis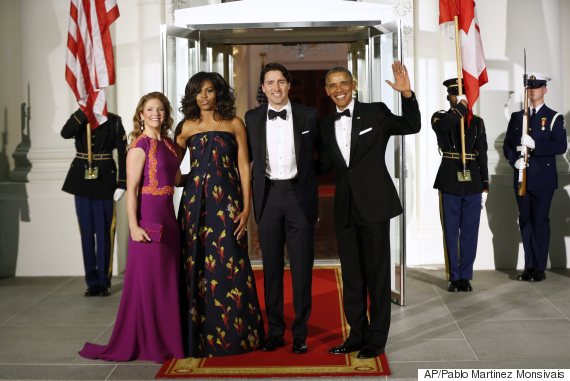 For the Prime Minister's trip to Washington, D.C., Grégoire Trudeau wore two dresses by Romanian-Canadian designer, and former "Project Runway Canada" contestant, Lucian Matis.

4. Ellie Mae Studios

Sophie has worn jackets from the Toronto-based label twice: once during the prime minister's speech on International Women's Day and the other to the Canada 2020 reception that took place at the Renwick Art Gallery in Washington, D.C.

5. Erdem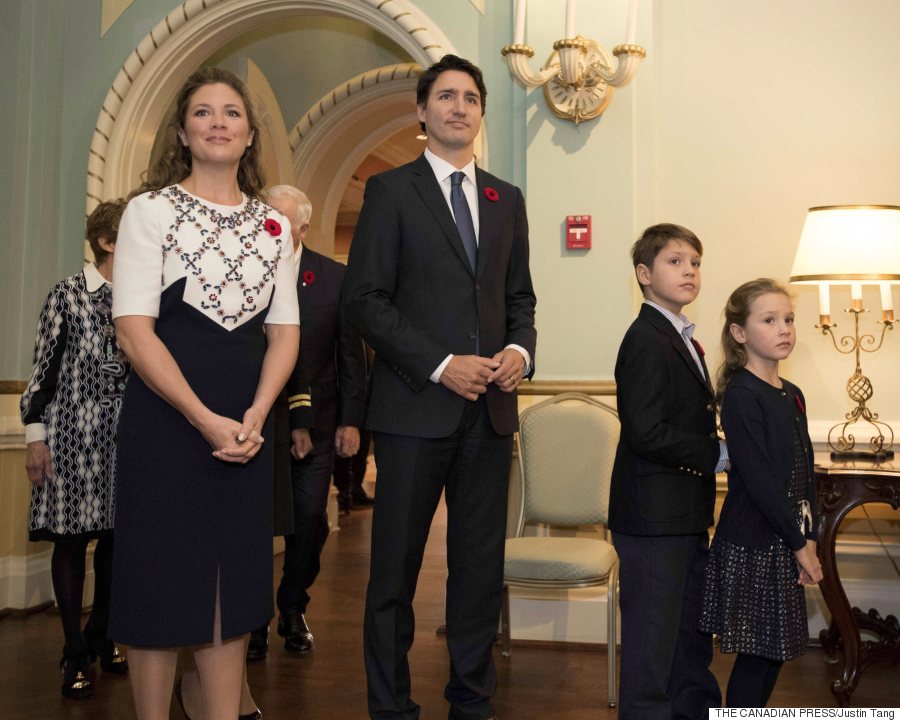 Underneath Grégoire Trudeau's Sentaler coat at the swearing-in ceremony was a dress by Canadian fashion designer (and Kate Middleton fave), Erdem Moralioglu.

6. Tammy Beauvais Designs

Sophie donned an aboriginal cape by Tammy Beauvais, a fourth-generation artisan from Kahnawake, Que., to the National Arts Centre's art and reconciliation panel discussion in January. She also gifted a similar cape to U.S. First Lady Michelle Obama during the recent state visit to Washington, D.C.

7. DUY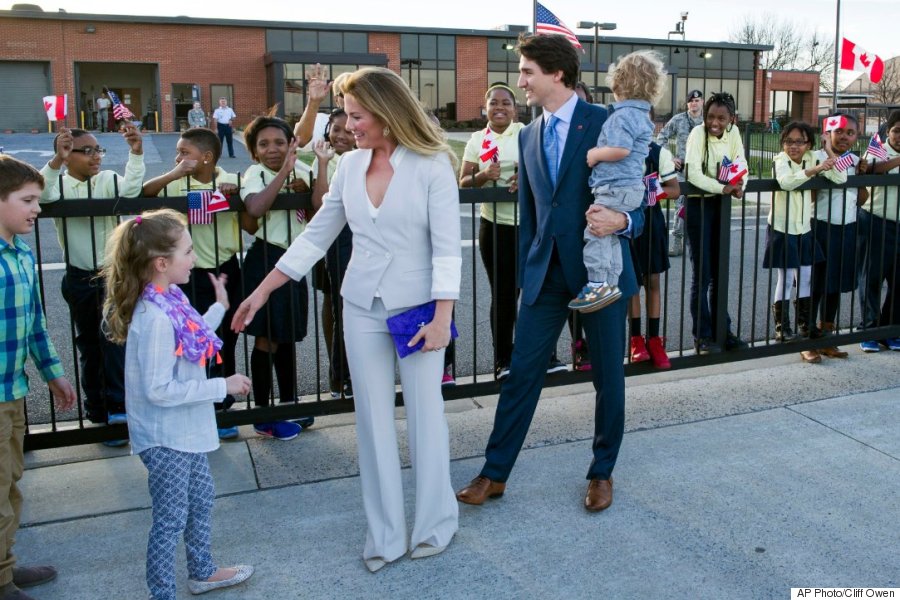 During the state visit, Grégoire Trudeau had two ensembles by Montreal-based Vietnamese-Canadian designer, Duy Nguyen.

8. Ela Handbags

In Washington, Sophie carried two handbags from the Swedish/Canadian label, ela.

9. Zvelle

Sophie paired her Lucian Matis day dress with a pair of pink pumps by Zvelle.

10. Smythe

For her interview with Katie Couric, Grégoire Trudeau wore a blazer by Canadian label, Smythe.

11. Judith & Charles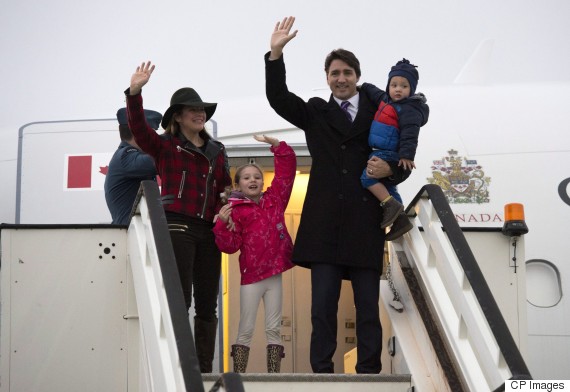 Sophie Gregoire-Trudeau poses for a pic, wearing all Canadian designers #statevisit pic.twitter.com/KPeknYo1kT

— Meagan Fitzpatrick (@fitzpatrick_m) March 10, 2016

Sophie wore a Judith & Charles dress with her Ellie Mae jacket at the Canada 2020 reception.

12. Marie Saint-Pierre

In 2008, Sophie modelled a dress by Montreal designer Marie Saint-Pierre at the Heart Truth Fashion Show during Toronto Fashion Week.

13. Theia
Here's Sophie Gregoire at the Bal du Musee in Theia. pic.twitter.com/aAjp4OFJ

— Eva Friede (@evitastyle) November 4, 2012

In 2012, Grégoire Trudeau chose a gold gown by Montreal brand Theia for the Bal du Musee.

14. Mikael D.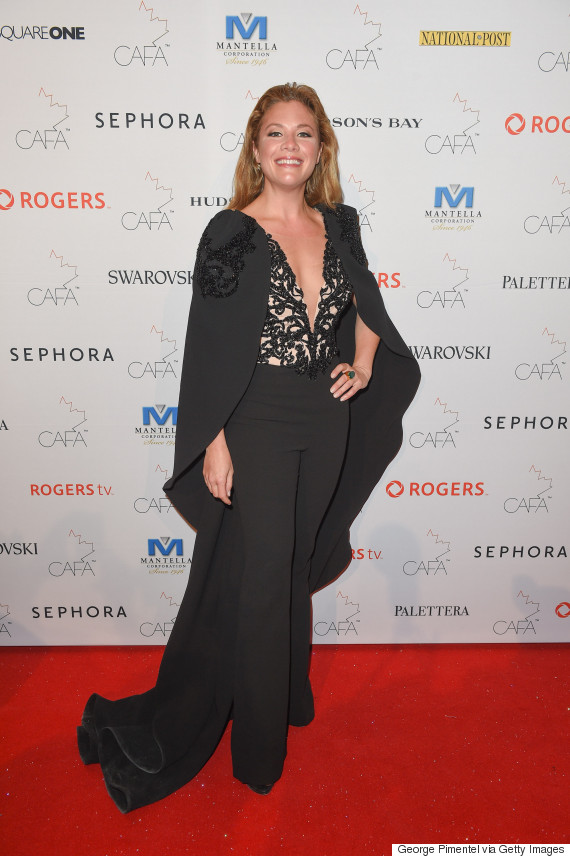 Sophie's black jumpsuit for the Canadian Arts and Fashion Awards in April 2016 had a few fiery details with its deep V and exposed back. But it was the flowing, floor-length cape with embellished shoulders that stole the show.
With files from Angelyn Francis.
Follow Huffington Post Canada Style on Pinterest, Facebook and Twitter!
Also on HuffPost