HALIFAX — A former navy officer who alleges he was discriminated against because he is openly gay argued Tuesday in the Federal Court of Appeal that he felt harassed by both the military and the Canadian Human Rights Commission.
Retired Sub-Lt. Paul Ritchie wants a judicial review of a decision from the commission dismissing his claim of discrimination based on sexual orientation.
Ritchie, who represented himself at the hearing in Halifax, focused his argument on the commission's investigation, which he said was biased. He also accused the military of giving the investigator false information.
"If the investigation report is flawed, then so is the commission's decision," he said outside court.
Justice Ann Marie McDonald reserved her decision.
'I was devastated'
When a complaint is made to a human rights commission, an investigator is assigned to look into the allegations and write a report. The commission then decides whether to dismiss the complaint or hold a board of inquiry.
But Ritchie told the court he often felt as though he was under investigation and not his allegations against the military.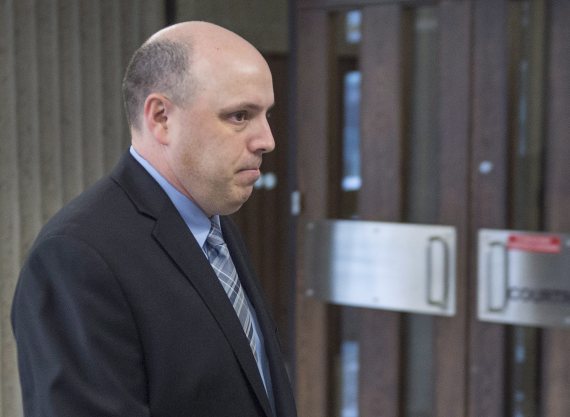 Retired Sub-Lt. Paul Ritchie, a former navy officer who alleges he was harassed because he is openly gay, arrives at court in Halifax on Tuesday, March 15, 2016. (Photo: CP)
Ritchie also said he felt "threatened'' when the investigator allegedly warned him the investigation could be delayed for months unless he revealed the amount of compensation he was seeking as part of his complaint.
"I was devastated," he told the court. "I was uncomfortable.''
"We took exception to it being said that there were (claims made) without sufficient evidence."
Ritchie told the court that contrary to the commission's assertion he had resigned, he submitted his resignation from the military due to the alleged harassment, but later rescinded it. He said he was then released from the military in 2012.
He is seeking $5,000 from the Department of National Defence. The department is seeking $2,250.
Lawyer Michelle Chan, appearing on behalf of the Attorney General of Canada, argued that while Ritchie may not agree with the commission's decision, that's not a good enough reason to overturn its ruling.
She said the court must decide only whether the decision to dismiss Ritchie's complaint was a viable option for the commission, not whether it was right or wrong.
"There is no evidence that this was not a thorough investigation,'' she said.
Speaking outside court, Chan said Ritchie's allegations that the military gave false information to the investigator were serious and unsubstantiated.
"We took exception to it being said that there were (claims made) without sufficient evidence,'' she said.
Report found evidence of mistreatment due to sexual preference
Documents filed with the court describe a complex legal fight dating back to 2009, the year after Ritchie enrolled to become a naval combat systems engineer in the Royal Canadian Navy.
The 22-page report from commission investigator Helen Gillespie concluded that, as the military itself admitted, Ritchie was at times treated differently as he studied at the Naval Engineering School in Halifax.
The report, dated Dec. 11, 2014, alleges that Ritchie overheard a commanding officer refer to him as a "faggot'' while speaking to another officer.
"The (Canadian Armed Forces) says that it is a non-corroborated incident that was never reported to them at the time,'' says the investigator's report.
Ultimately, the report found that even in cases where Ritchie was treated differently, there was no conclusive evidence that it was due to his sexual preference.
Also on HuffPost
Tales Of Sexual Harassment At Work