THUNDER BAY, Ont. — The smash of a plate breaks up Brandon Meredith's train of thought. The 19-year-old looks over at the source of the sound, just like the dozens of others in the cafeteria of Thunder Bay's largest homeless shelter. Shelter House can feed up to 200 people at lunch and then again at dinner daily — Meredith is usually here for both. The meals at the shelter, Meredith says, ensure he can spend less on groceries "until you're fully capable of it and you can just live off of here. It's free, it's open for anybody."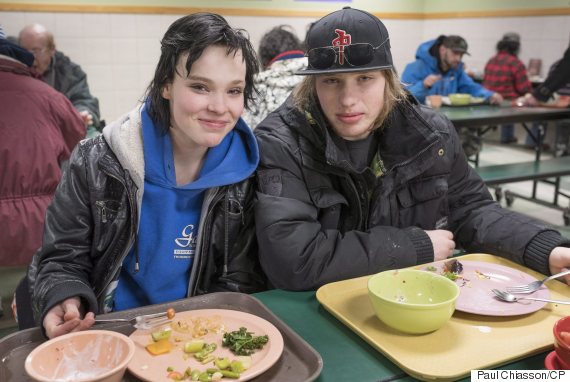 Clarissa Cole and her friend Brandon Meredith finish their meals at Shelter House, Thursday, March 3, 2016 in Thunder Bay, Ont. (Photo: Paul Chiasson/CP)
Meredith and his companion Clairissa Cole, 16 — Cole will only say she ran away from home because of "personal parenting problems" — don't know where they see themselves in five or 10 years. Meredith talks about getting enough welfare money to pay rent and eventually save up enough to get out of Thunder Bay. The raucous benches give a glimpse into how many people in this city cannot afford to feed themselves easily. Some come in through the back door with empty margarine tubs, taking food to go. They walk into the cold night air without gloves or a warm hat, but a warm meal in hand. Donations of food are always needed — not Kraft Dinner, there's more than enough of that in the pantry — because it's not just Thunder Bay's homeless who need a meal. Ron Rogalski from the city's Church of Jesus Christ of Latter Day Saints says he has relatives who are seasonal workers who sometimes depend on the soup kitchen for food. Will there ever be a day when he and other church members won't have to volunteer their time to prepare meals for homeless people? Rogalski doubts it. "Some of them, I get the feeling that might be the only meal that they're going to have for the day," he says. "We're happy to do the work. It gives us a lot of joy, so whatever the circumstances are, you know, we just roll with everything here."
RELATED: Homeless 'Census' Shows Common Causes, Offers Hope For Help
Also on HuffPost