REGINA — Public Safety Minister Ralph Goodale says so-called lone-wolf terrorist attacks are some of the most difficult to prevent and that's why Canada needs to be among the best in the world at stopping radicalization.
Goodale says initial indications are that the man who attacked two soldiers at a north Toronto military recruitment centre was acting on his own.
He says it is important that Canadians remain vigilant against possible terrorist attacks and alert police to any suspicious behaviour.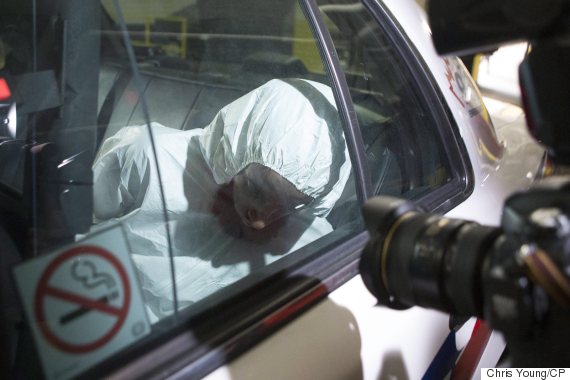 Ayanle Hassan Ali arrives in a police car at a Toronto court house on Tuesday, March 15, 2016. (Photo: Chris Young/CP)
But Goodale also says authorities need to reach out to communities susceptible to radicalization to stamp it out early.
On Monday, a man with a knife walked into a government building that houses a Canadian Armed Forces recruitment centre on the ground floor.
Police say he talked about Allah as he slashed at soldiers.
Police have charged Montreal-born Ayanle Hassan Ali, 27, with a total of nine counts including attempted murder.
The soldiers were not seriously injured.