A day after two members of the Canadian Forces were attacked in Toronto, Prime Minister Justin Trudeau took to social media to say Canadians won't be "intimidated by terror and hate."
The prime minister also wished the victims a "full recovery."
Canadians - and the @CanadianForces - will not be intimidated by terror & hate. May the CAF members injured yesterday make a full recovery.

— Justin Trudeau (@JustinTrudeau) March 15, 2016
Trudeau's tweet represented his first comments on the attack at a military recruitment centre Monday afternoon. While the prime minister did not release an official statement on the matter that night, Public Safety Minister Ralph Goodale addressed the incident in a release.
Toronto Police Chief Mark Saunders told reporters Tuesday that that it doesn't appear the suspect, Montreal-born Ayanle Hassan Ali, was working "in concert with any organization" or terrorist group. However, the 27-year-old is alleged to have deliberately targeted military personnel.
Saunders also quoted the man as saying: "Allah told me to do this, Allah told me to come here and kill people."
'Isolated incident': Goodale
In his statement Monday, Goodale said that while it was premature to comment, RCMP information suggested it was "an isolated incident" and that there was no imminent threat to public safety.
"Canadians can be assured that their police and security agencies are fully engaged and are discharging their responsibilities," he said, adding that his thoughts and prayers were with the victims.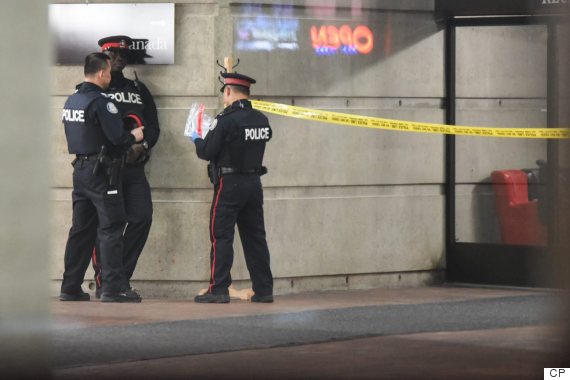 Police officers investigate the crime scene where two uniformed Canadian soldiers were stabbed. (Photo: Canadian Press)
Interim Conservative Leader Rona Ambrose was also careful with her words in the statement she released shortly after the attack. Ambrose extended sympathies to soldiers "wounded in an unprovoked attack."
She also lauded the two members for their actions to thwart a situation that threatened the security of others, saying their bravery was reflective of the "high standards" of the Canadian Armed Forces.
"While we have no confirmation of the reasons for this attack, it is my hope that regardless of the motivation, the perpetrator faces the full force and weight of the criminal justice system for his actions," she said.
Defence Minister Harjit Sajjan also did not release an official statement but shared his thoughts on Facebook.
"My thoughts are with the Canadian Forces members injured today in Toronto, and with those who responded bravely in the face of danger," he wrote.
My thoughts are with the Canadian Forces members injured today in Toronto, and with those who responded bravely in the face of danger.

Posted by Harjit Sajjan on Monday, March 14, 2016
&nbsp
Memories of 2014 attacks
The attack brought to mind memories of two fatal attacks on Canadian soldiers in Montreal and Ottawa in October 2014.
On Oct. 20, 2014, Tory MP Randy Hoback rose during question period to ask then-prime minister Stephen Harper to address "unconfirmed reports of a possible terror attack" near Saint-Jean-sur-Richelieu.
Harper said he was aware of the "extremely troubling" reports and said thoughts and prayers were with victims.
Warrant Officer Patrice Vincent was killed that day after he was run down by Martin Couture-Rouleau, a radicalized Quebec man.
Just two days later, Cpl. Nathan Cirillo was shot and killed at the National War Memorial by professed "mujahedeen" Michael Zehaf Bibeau, who was later gunned down when he stormed Parliament Hill.
With files from The Canadian Press
Also on HuffPost
Ottawa Shooting Anniversary