Quebec Premier Philippe Couillard says there will be no free vote for his Liberals when the legislature eventually votes on whether to adopt a bill creating a provincial long-gun registry. Couillard said today those votes should be reserved for exceptional cases such as dying-in-dignity legislation or on moral issues that are deeply personal, spiritual or religious. The province tabled a bill last December aimed at setting up its own long-gun log a few years after the Conservatives abolished the federal database for non-restricted guns.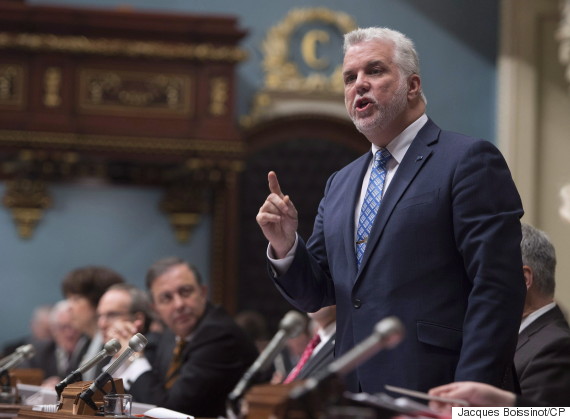 Quebec Premier Philippe Couillard responds to the opposition, during question period Wednesday, March 9, 2016. (Photo: Jacques Boissinot/CP)
The Quebec proposal is being met by grassroots opposition from those who want the government to abandon the initiative. Hunters and sports shooters generally oppose the registry and say Canadian regulations pertaining to the licensing of weapons are sufficient, while gun-control advocates counter that a majority of Quebecers want a registry and that licences aren't enough. Public hearings into the bill begin March 23.
A divisive issue
Members of the Parti Quebecois and the Coalition for Quebec's Future have acknowledged caucus strife on the matter and there are reports the governing Liberals have their own divisions. The Liberals say the registry will cost about $17 million to start and $5 million yearly to operate. The province fought a protracted legal battle against Ottawa in a bid to preserve the Quebec data from the federal registry, which was eliminated in 2012. It ultimately lost at the Supreme Court. Quebec has often been cast as being more bullish about gun-control legislation than anywhere else in the country, partly because of major mass shootings such as the Montreal Massacre in 1989. Opponents argue the registry might end up just as costly as the defunct federal one. Sylvie Roy, an Independent member of the national assembly, has tabled a petion with the signatures of 58,000 people who are against the registry.
ALSO ON HUFFPOST: