Getty Images
Long wait-times for Canadian weight-loss surgeries have prompted some patients to look elsewhere for a quick fix to obesity — a move that comes with hefty costs for the Canadian health-care system.
A study published by the Canadian Journal of Surgery says extensive wait lists — which average five years across Canada — have led many patients to travel for bariatric surgery — a type of weight-loss surgery that reduces the size of the stomach by removing a portion of it or adding a band to reduce its size.
"However, most bariatric medical tourists do not receive coordinated, long-term postoperative care from foreign health care services," the study reads.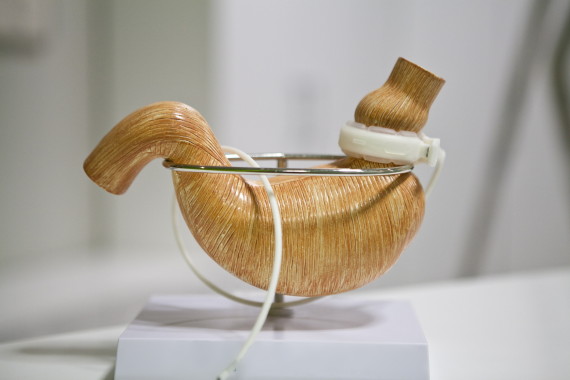 A gastric ring is shown at The Obesity Clinic in Mulhouse, France. (Photo: Getty Images)
"Consequently, Canadian physicians and surgeons treat them when complications arise. This care is entirely funded by the Canadian health care system."
The cost of fixing complications from sloppy "medical tourism" procedures is costing Alberta's health-care system more than half-a-million dollars each year, according to the new study.
Surgeries not only pricey, but dangerous
That care can be seriously expensive, and even life-threatening for some patients.
The study surveyed 25 Alberta surgeons who treated 59 medical tourism patients between 2012 and 2013 after they had undergone bariatric surgery abroad.
"Some patients do not understand exactly what they're into when they get back."
The study estimated that those patients cost the Canadian health care system $560,000 annually, a conservative estimate given that it only accounts for treatment for complications, not the cost of medical providers such as nurses and other medical care such as blood work and hospital stays.
Complications include band slippage and stomach leaks, which can be difficult to repair, according to Dr. Shahzeer Karmali, one of the study's lead researchers.
Karmali told the National Post that a woman who had surgery in Mexico had to have nearly her entire stomach removed. She will have to be fed through a tube for the rest of her life.
Medical tourism companies luring patients
Another major issue is travel organizations luring patients on medical tourism trips by promoting low prices and vacation opportunities without explaining all of the risks, according to the study.
"Some patients do not understand exactly what they're into when they get back," Karmali said in an interview with CBC News.
A study published last year found that 5,988 Albertans left the country for medical care in 2014.
Like Us On Facebook

Follow Us On Twitter
Also on HuffPost:
8 Questions To Ask About Medical Tourism