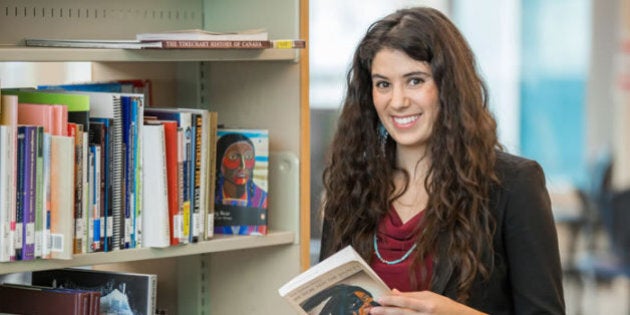 Mi'kmaw spoken word artist Rebecca Thomas will become Halifax's first aboriginal poet laureate next month — thanks to the path carved by a "phenomenal" woman who came before her.
"I feel like any inroads I've made here I have to give credit to Rita Joe," Thomas told The Huffington Post Canada of the late renowned Mi'kmaw poet and residential school survivor.
The City of Halifax announced the news Tuesday, saying Thomas will be given "a position which will empower her to enhance our understanding of our region's unique cultural tapestry through her work," in a statement.
She will succeed outgoing poet laureate El Jones for a two-year term beginning in April.
"We're not necessarily heard from all the time," Thomas said of Canada's indigenous peoples. "You hear interpretations of our voice, you hear interpretations of our histories — very rarely do you actually hear from us, as indigenous people."
Watch Thomas' "What am I supposed to think?"
She added that as poet laureate, "it's really important that I don't compromise my indigenous voice."
Though she can't speak on behalf of all aboriginal people, Thomas said there's a similar experience that binds them — and she's intent on making use of the platform she's been given.
"My voice will hopefully resonate and at least give perspective to a non-native world that we're still here and we're still proud of who we are and we're going to be here for a long time," she said.
Joe, regarded as the poet laureate of the Mi'kmaw, died nine years ago and left a body of work with ambient themes of love and survival. Like Joe, Thomas also finds joy in seeing poetry resonate with young people.
"... we're still here and we're still proud of who we are."
The Nova Scotia Community College aboriginal student service coordinator was at a youth poetry slam when HuffPost Canada spoke to her.
"Walking in and just seeing them just be so proud of themselves and have a space where they can speak and feel important and if I can help facilitate that process, that's wonderful," she said, touching on her vision of what she wants to do in the next two years.
"That's what I want to do. I want to make people feel important and that they matter."