Harkat is preparing a formal submission to Goodale requesting that he decide it would not be "contrary to the national interest" to let him continue living in Ottawa with his wife Sophie, said Barbara Jackman, one of the Algerian refugee's lawyers.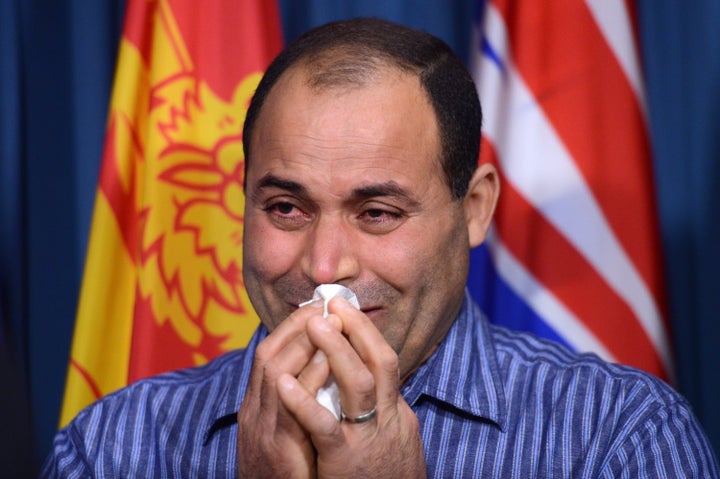 Mohamed Harkat cries as he takes part in a press conference on Parliament Hill in Ottawa on Thursday, May 15, 2014. (Photo: Sean Kilpatrick/CP)
At the same time, Harkat and his counsel will prepare a reply to the Canada Border Services Agency, which recently concluded he poses a risk to Canada and that he could be returned to his homeland.
"They haven't relied on any kind of current evidence," Jackman said in an interview. "So I am assuming that there is no current evidence because otherwise they would have relied on it."
Both submissions are due in early May, Jackman said.
Denies involvement with terror group
Harkat, 47, was taken into custody in Ottawa in December 2002 on suspicion of being an al-Qaida sleeper agent. He denies any involvement with terrorism and fears torture if sent back to Algeria.
The federal government is trying to deport the former pizza-delivery man on a security certificate — a rarely used legal tool for removing non-citizens suspected of extremism or espionage.
Harkat's lawyers argued the process was unfair because the person named in a certificate doesn't see the full case against them.
In a 2014 ruling, the Supreme Court of Canada said the security certificate regime does not violate the person's right to know and challenge the allegations they face. However, the high court provided detailed guidance on applying the process to ensure it is fair.
Federal Court Justice Simon Noel ruled in 2010 that there were grounds to believe Harkat is a security threat who maintained ties to Osama bin Laden's terror network after coming to Canada.
Two years ago, the Supreme Court concluded Harkat "benefited from a fair process" when Noel reviewed his case, meaning the certificate against him stood.
But little has happened since.
Trudeau's brother has lobbied on his behalf
Many supporters, including Prime Minister Justin Trudeau's brother Alexandre, have written to the government on Harkat's behalf.
That says a lot about the man, Jackman said.
"Some of those letters are very powerful. Those are the people who are best able to judge the kind of character he is."