YouTube beauty guru Darshika Patel is the latest to join the under-eye bag brigade. She uploaded a video earlier this year that promised to get rid of dark circles fast with two simple ingredients: water and baking soda. She told a viewer in the comments that came up with the idea by testing with various things in the kitchen.
The trick is to mix about one teaspoon of baking soda with enough water to create a runny paste — "Not too harsh," Patel warns, "and it will do its magic."
But, she urges, do not rub the paste in, only smear!
"Rubbing will irritate the delicate skin under the eyes," she says.
The next step is to use a wet cloth to wipe off the paste after it dries. "You'll notice that it's dry because it will feel dried and crusty around your eyes," Patel explains.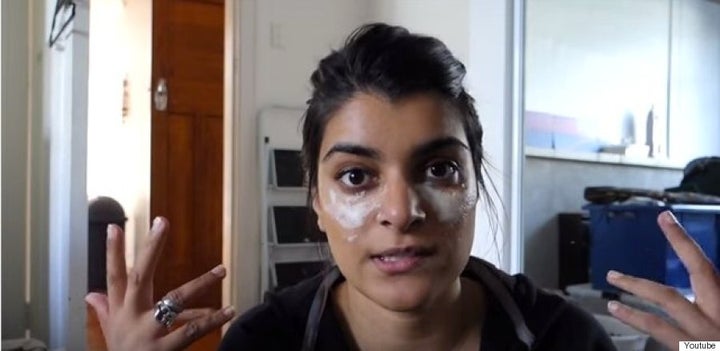 "You'll find the under eye area feels a little bit tight," she says at the end of the four-minute video. "But that's good because now it is tightening the skin around the eyes, your bags will have diminished and your dark circles should have also improved."
But the video that's been viewed over 200,000 times has stepped into some hot water, leaving some concerned about the negative side effects of mixing the pH levels of the skin and the baking soda.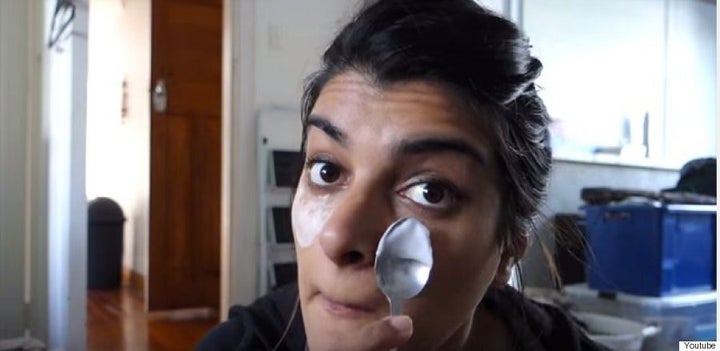 "Baking soda has an alkaline pH, while the skin's natural pH is slightly acidic, which is necessary for healthy skin-cell functioning. Increasing the pH can lead to irritation and impairment of the skin barrier," Dr. Zeichner explained to Refinery29.
"To work its best, the acid mantle [the skin] should be slightly acidic, at a 5.5 pH balance. When it's too alkaline, skin becomes dry and sensitive," said Dr. Patricia Wexler, a New York City dermatologist to Women's Health.
Patel has taken to defending this method in the comments section of her video, asserting that the baking soda will simply neutralize the skin's pH.
The verdict? It might work for you and it might not. But you can always use under-eye bags as an excuse to sleep more. Is that worth giving up?