A slim majority of Canadians wants federal Liberals to keep in place controversial changes to the Citizenship Act made by the previous government, a new poll suggests.
According to numbers from the Angus Reid Institute, 53 per cent of Canadians say Bill C-24 — the so-called Strengthening Canadian Citizenship Act — should not be repealed. Twenty-one per cent want the law scrapped, while 26 per cent aren't sure.
Among other things, the legislation gives the federal government power to strip dual citizens of their citizenship if they're convicted of terrorism, treason, and espionage. Those same rules apply to dual citizens who take up arms against Canada by joining an international terror group or foreign army.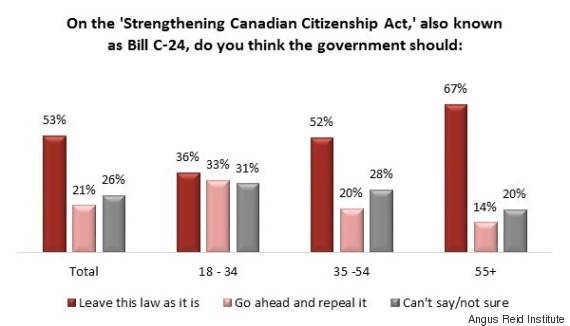 Source: Angus Reid Institute
During last fall's election campaign, Tories used those powers for the first time to strip Jordanian-born Zakaria Amara of his citizenship. The "Toronto 18" ringleader was sentenced to life in prison six years ago for his role in the foiled terror plot.
Liberal legislation tabled late last month would remove terrorism as grounds for revoking citizenship and, if passed, restore Amara's Canadian citizenship.
The bill would do nothing, however, to revoke the right of the federal government to remove citizenship for those who obtain it through fraudulent means.
Perhaps unsurprisingly, the poll shows that Conservative supporters are the most likely to argue against change, with 84 per cent saying the law should be left as is. But 38 per cent of Liberal supporters and 40 per cent of New Democrats feel the same way.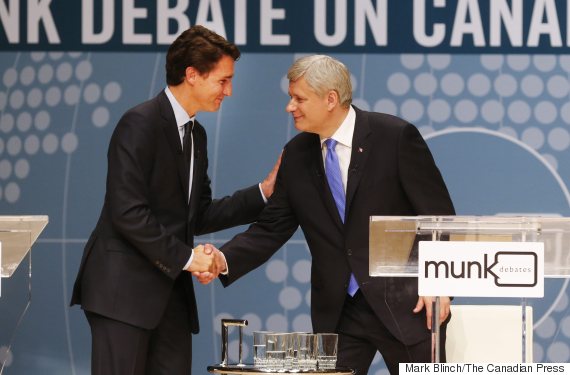 Former Conservative Leader Stephen Harper and Liberal Leader Justin Trudeau shake hands following the Munk Debate on Canada's foreign policy in Toronto on Sept. 28, 2015. (Photo: Mark Blinch/CP)
Angus Reid Institute found that younger Canadians and those with more education were the most likely to say C-24 should be scrapped.
Still, while 33 per cent of Canadians between the ages of 18 and 34 want to see the law repealed, 36 per cent in the same age range say it should be maintained.
By way of comparison, 52 per cent of Canadians between the ages of 35 and 54, and 67 per cent of Canadians over the age of 55 say the law should be kept.
Liberals score well on security
The poll also found that two-in-three Canadians say the Trudeau government is doing a "good" or "very good" job on the national security file.
But Canadians are also eager to see the Trudeau government bring in promised amendments to C-51, the anti-terror law brought in by the past Tory government and supported by Liberals.
Shachi Kurl, executive director for the Angus Reid Institute, said Friday that the government has managed to "effectively thread the needle" with the Canadian public on its support for C-51 — a position some speculated could hurt them in the campaign.
The poll suggests support for C-51 is now at 80 per cent. Kurl said those numbers suggest earlier opposition was more about the Harper government than the bill itself.
"Far more people are inclined to say just leave the legislation as it is, don't repeal it, as would say it should be walked back."


—Shachi Kurl, Angus Reid Institute
But the Liberals are not aligned with many Canadians on C-24.
"The numbers speak for themselves," she said. "Far more people are inclined to say just leave the legislation as it is, don't repeal it, as would say it should be walked back."
While Kurl doubts the Liberal position could become a "major liability" for a government enjoying an extended honeymoon, she said it demonstrates that Canadians aren't quick to praise every change or tweak as "the right move to make."
The survey was conducted online among 1,492 Angus Reid Forum panelists from March 14 to 17. Similar surveys have a margin of error of 2.5 per cent, 19 times out of 20.
'A Canadian is a Canadian is a Canadian'
Prime Minister Justin Trudeau forcefully argued during the campaign that C-24 created two tiers of citizenship.
The Tories released an audio recording of Trudeau explaining why terrorists should get to keep their citizenship just days before the Munk foreign policy debate in September. The recording was also used in an attack ad.
Trudeau and then-Tory leader Stephen Harper had a feisty exchange on the topic during the Toronto debate, in which the Liberal leader maintained that "a Canadian is a Canadian is a Canadian."
Footage from CBC News:
Though Liberals ultimately won the day, Immigration Minister John McCallum faced a number of questions about the party's position at a press conference in February. McCallum was repeatedly pressed on why someone who plotted to blow up buildings in downtown Toronto deserved to regain his citizenship.
"It is a question of principle," McCallum said. "It is our profound belief that there should be one class of Canadian, not two classes of Canadian. That a Canadian is a Canadian is a Canadian.
"That in order to deal with serious criminals, we have in place a criminal justice system, we have prisons in place, and we will deal with criminals through that justice system, through those prisons."
Tories wasted little time blasting the Liberal government's decision.
This should not be a priority for the Canadian government. RT if you agree. #cdnpoli pic.twitter.com/DDRxenKC5I

— Conservative Party (@CPC_HQ) February 26, 2016
Fraud, but not terrorism?
In an interview with The Globe and Mail, McCallum justified why the government should be able to strip citizenship because of fraud, but not terrorism.
"I think those things are different in kind. When you give false pretenses to become a citizen, the offence relates specifically to citizenship," he told the newspaper.
"The other is about if you commit a crime or you can name any other contingency … those things are not related to the process of becoming a citizen."
ALSO ON HUFFPOST:
Harper's Legacy: Top Achievements, Failures, According To Poll