Donald Trump winning the U.S. election would pose as large a risk to the global economy as the threat of jihadi terrorism, according to the Economist Intelligence Unit.
"In the event of a Trump victory, his hostile attitude to free trade, and alienation of Mexico and China in particular, could escalate rapidly into a trade war — and at the least scupper the Trans-Pacific Partnership between the US and 11 other American and Asian states signed in February 2016," EIU said in its latest risk assessment.
EIU gives a Trump presidency a risk intensity score of 12, the same rating given to "the rising threat of jihadi terrorism."
That makes Trump a larger risk than Britain leaving the European Union or the threat posed by collapsing oil prices, but a smaller risk than a Chinese economic "hard landing" (the number-one risk) or Russia's interventions in Syria and Ukraine.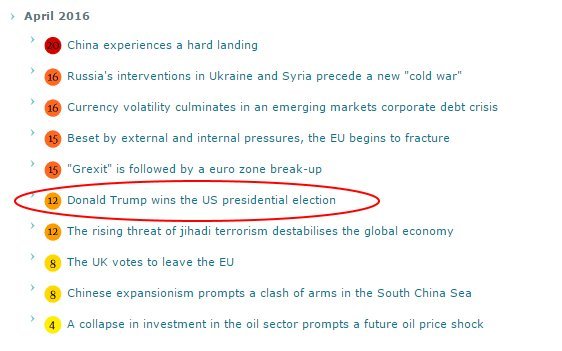 Robert Powell, global risk briefing manager at EIU, told Politico it's the first time the research body of The Economist magazine has ever identified a single politician as a risk to the global economy.
Trump winning is a "moderate risk" with "high impact," the EIU said, noting that "we do not expect Mr. Trump to defeat his most likely Democratic contender, Hillary Clinton."
Not only does the EIU see Trump as being as large a threat as terrorism, it sees Trump actually exacerbating terrorism.
"His militaristic tendencies towards the Middle East (and ban on all Muslim travel to the U.S.) would be a potent recruitment tool for jihadi groups, increasing their threat both within the region and beyond," the EIU asserts.
Meanwhile, Trump's assertion that undocumented Mexican migrants are rapists, and his call to ban Muslims from entering the U.S., has given rise to fears of racial divisions and even racial violence.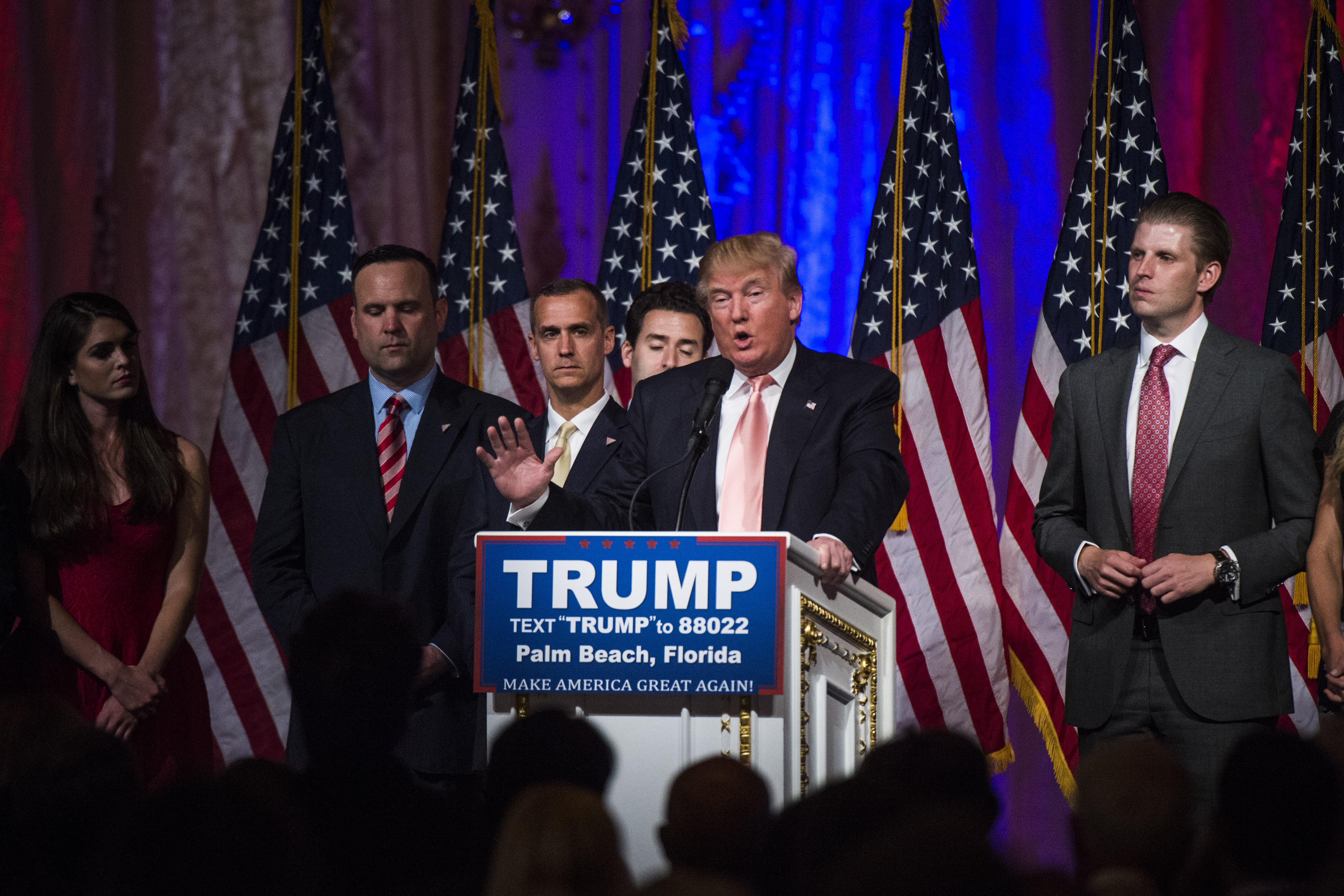 Republican presidential candidate Donald Trump speaks during a campaign press conference at the Mar-a-Lago club in Palm Beach, Florida on Tuesday March 15, 2016.
Trump's goading of China — calling it a currency manipulator — has made many experts worry about the possibility of a trade war between the U.S. and China, the world's two largest economic powers.
But in authoritarian China, the state press has been focusing on Trump to argue democracy doesn't work.
"Big-mouthed, anti-traditional, abusively forthright, [Trump] is a perfect populist that could easily provoke the public," the Global Times, an organ of China's communist party, wrote this week.
"Despite candidates' promises, Americans know elections cannot really change their lives. Then, why not support Trump and vent their spleen?"
Like HuffPost Canada Business On Facebook

Also on HuffPost
Photo gallery
11 Donald Trump Protest Signs
See Gallery