Emma Watson, we didn't know you had it in you.
The almost-hour long chat posted on Watson's Facebook page covered everything from the women that influenced him to the personal stories that informed his music.
By the end of it, the former "Harry Potter" actress even took a stab at rapping a few lyrics from the musical. The interview ended with Watson requesting Miranda a freestyle session — we just didn't expect her to join in.
"I'm happy to freestyle if you beatbox," he told the actress.
After some initial reluctance on Watson's part and gentle encouragement from Miranda, the two joined forces to drop some rhymes about gender equality including gems like "Women are like half the people on earth and yes, they should have been equal since birth."
After it was all over, a thoroughly embarrassed Watson, who turned literally turned into "the colour of a to-mah-to" said, "These are the lengths that I will go to for gender equality."
Their lovefest continued online today with both tweeting their mutual affection for the other:
Watch the full video clip above.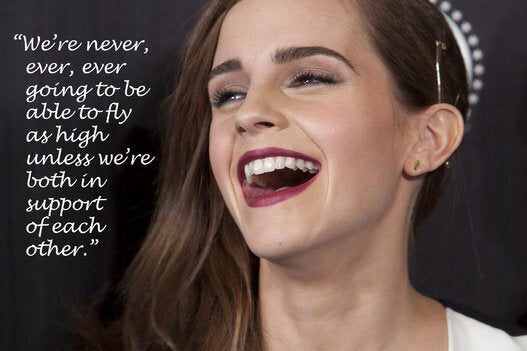 Emma Watson's Best Feminist Quotes