An Edmonton children's entertainer wants to blow children's imaginations away with his knack for creating colourful worlds and stories with just balloons.
Rupert Appleyard is a world-renowned balloon artist and he's hoping to turn his talent into a new show which, if funded, will be filmed on a set made entirely out of balloons.
His alter-ego Phileas Flash stars in "Balloon Town." Local production company Open Sky Pictures is also behind the project.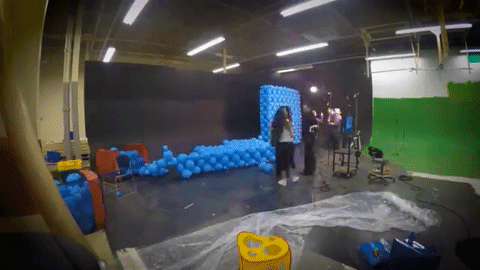 The show will use animation, puppets and live action to amuse and inspire children ages four to 10. Additional activities, such as online tutorials, will teach kids how to make their own balloon shapes, animals, and art.
Appleyard has been sculpting balloons for over a decade — and has made everything from pop culture characters including Kylo Ren from "Star Wars" and daleks from "Doctor Who."
He's also played with making recreations of famous works of art, such as the Mona Lisa and Van Gogh.
"Phileas Flash may seem like an average shop keeper but you'll soon discover he's anything but! He lives in a town made solely from balloons, fresh air and imagination, where the normal rules don't apply and adventure is just a twist away," reads the trailer's description.
"It's an idea I've had for two years, to make a series that involves balloon twisting. Balloons are such a wonderful material to work in. You can make anything out of them," Appleyard told CBC Radio.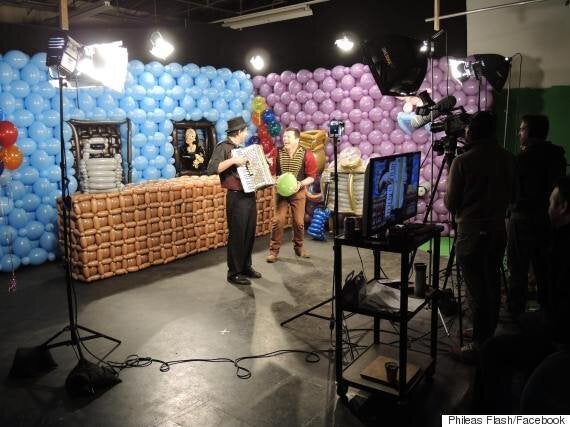 Phileas Flash on the set of "Balloon Town." (Photo: Phileas Flash/Facebook)
The series is vying for a production grant from Canada's Independent Production Fund. If selected, "Balloon Town" will get the funding it needs to create an entire web series.
The NAIT campus set, which features walls, shelves, artwork and even tools made out of balloons, was made in two days and cost over $1,000, according to the Edmonton Examiner.
You can watch the "Balloon Town" trailer above.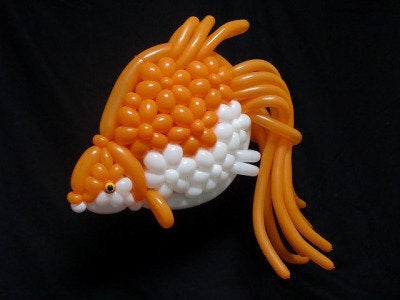 Masayoshi Matsumoto's Incredible Balloon Sculptures