OTTAWA — Six months ago, Liberal Leader Justin Trudeau looked Canadians in the eye and pledged not to break his election promises.
"That's what our plan is about, and I'm being straight and honest," Trudeau told the public during The Globe and Mail's leaders debate on Sept. 18 about the Liberals' commitment to run three deficits of $10 billion or less, reach a balanced budget in 2019-2020 and kick start the economy.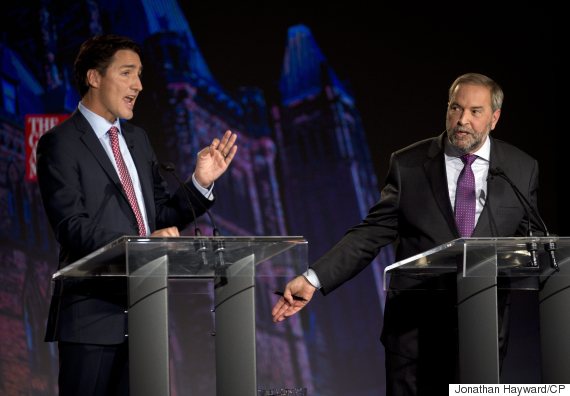 Liberal Leader Justin Trudeau debates NDP Leader Tom Mulcair during The Globe and Mail leaders' debate, Sept. 17, 2015 in Calgary. (Photo: Jonathan Hayward/CP)
"Mr. Mulcair's plan is to actually do what we know politicians of all parties – including my own – have done in the past, which is to say we're going to balance the books and then, oops, the numbers are worse than we thought. We're going to have to break our promises," Trudeau said. "That's not what I'm going to do. I'm being honest with Canadians. We're going to run three deficits and we're going to invest in the future Canadians need right now."
Fast forward two months.
The Liberals win. Nova Scotia MP Scott Brison, the new Treasury Board president, faces reporters after the Parliamentary Budget Officer reports a weakened economic outlook. Brison is asked whether the Liberals might run deficits larger than $10 billion.
He points the finger at the Tories.
"We will deal with, first of all, addressing the fact that we inherited from the previous government a bare cupboard," Brison responds.
A week later, Finance Minister Bill Morneau announces that his department now anticipates economic growth to be 1.2 per cent rather than the two per cent projected in the spring. He forecasts a deficit of about $3 billion for 2015-2016, rather than the $2.4 billion surplus anticipated in the Conservatives' final budget. A deficit of $3.9 billion is expected for 2016-17, with deficits every year until 2019-2020 — even before the new Liberal government has spent a cent.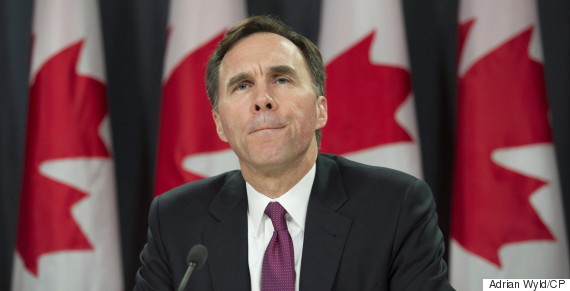 Minister of Finance Bill Morneau speaks to media as he delivers a fiscal update during a news conference, in Ottawa, on Friday, Nov. 20, 2015. (Photo: Adrian Wyld/CP)
Morneau tells reporters he wanted to provide them with an "early understanding of the government's finances as we've inherited them."
In his 16 days as finance minister, Morneau says, he has discovered in briefings with his department that the economy is growing far more slowly than was previously forecast.
"We've made a commitment to a government that's open, transparent and positive. So I want to be open and transparent about what we've found so far," he says.
He insists that this starting point is objective and independent. "We wanted to show this is the situation that we've inherited."
He says the word "inherited" three times. Some economists suggest the Liberals are being cautious with their math and building a contingency reserve.
Three months later, Morneau again faces reporters. This time, it's to tell them the deficits are again much larger than expected.
Collapsing oil prices and weaker-than-expected growth worldwide have contributed to revised deficit projection to $18.4 billion in 2016-2017 — $6 billion of which is contingency planning by the finance department. The deficit is projected to be $15.5 billion in 2017-18 — again before the Liberals' campaign commitments are factored in.
"In a volatile economic situation, it may take a little longer than we expected."
Morneau acknowledges that the Liberals won't keep their $10-billion-deficit promise and won't likely reach balance by 2019-2020.
"In a volatile economic situation," the minister says, "it may take a little longer than we expected."
Still, he tries to make the case that the Liberals' spending plans are exactly what the doctor ordered to fix sluggish growth.
Was it all just politics?
So, was Trudeau justified in his attack of the NDP's balanced-budget pledge? Could the Liberals have foreseen the worsening economic tide coming? Or is this just, simply, politics?
Emmett Macfarlane, an assistant professor at the University of Waterloo, is of two minds.
On the one hand, private bank economists, the Bank of Canada and the Parliamentary Budget Officer always have to revise their projections, he told The Huffington Post Canada.
"No one ever always nails it, and the same is inevitably going to be true of political parties that rely often on those exact sources of information.
That said, it is kind of a perennial thing, that parties are going to put the most positive gloss on their own platform projections, and the Liberals don't really have anything special here that they can hang their hat on to explain away why things are worse off and kind of try to justify the change in tone from the campaign to now, when they have to deal with reality."
The Liberals didn't necessarily have the most conservative projections on the state of the country's finances, Macfarlane said. Some things, like slower economic growth are definitely out of their control, he noted, but their rhetoric isn't.
"I don't think they deserve a lot of sympathy for being able to turn around and kind of blame the previous government for their own approach."
The Liberals "caught themselves in their own framing," the professor said, and they've consequently contributed to feeding an increased sense of apathy towards politics.
Alexandre Laurin, the research director at the C.D. Howe Institute, the think tank that Morneau used to chair, said he thinks the Liberals were just engaging in politics as usual.
"It's a recurring story. It happens all the time, so why would it be different this time?"
"Is a political party ever careful when they campaign? It's not really in their advantage."
The economy really did worsen during the campaign, Laurin noted.
"But were they careful? Is a political party ever careful when they campaign? It's not really in their advantage. They always end up having made more commitments than they can afford, so they come out and say: 'We are in a worse fiscal shape than we thought we were.'"
Sheila Block, a senior economist with the Canadian Centre for Policy Alternatives, said there is a "great temptation" for any new government to blame the former government and say the fiscal situation is worse than they had been led to believe.
To be fair, she said, few people were estimating oil prices below $39, which was a fairly dramatic shift. But, Block suggested, Canada is in "such an anti-tax, anti-government cultural place that to do things that you want or should be doing, you need to blame the previous government because you can't be bold enough."
Block and Laurin noted that the Liberals' platform included a pledge to have the Parliamentary Budget Officer cost out the parties' election promises during future campaigns. That would likely lead to less variation, in terms of economic assumptions, and make it easier for voters to compare across platforms, Block said.
Scott Clark, a former deputy minister at finance and a senior adviser to prime minister Jean Chrétien, told HuffPost the strategy of blaming the previous government is almost standard federally and provincially.
He noted, however, that a lot of things happened that were not the fault of the previous government, such as the drop in oil prices and a general deterioration of the economy throughout the election.
"Unfortunately," Clark said, "the numbers that [the parties] were using were out of date [during the campaign] – they meant nothing. And yet, all three political parties kept putting out platforms based on assumptions that were out of date, and nobody during the election seemed to care about that."
"If the Conservatives had won, there would still be a high deficit that they would be confronted with. It didn't matter who was elected, they would all have been confronted with a situation that was worse than was detected a year ago in the spring budget," he said.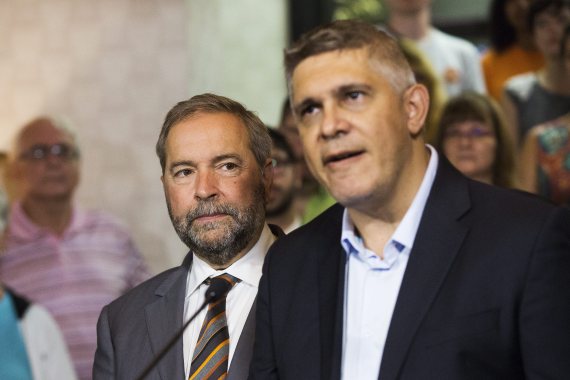 Tom Mulcair announces that former Saskatchewan finance minister Andrew Thomson will run as an NDP candidate, Aug. 14, 2015. (Photo: Michelle Siu/CP)
Andrew Thomson, Saskatchewan's former NDP finance minister who ran federally in the election and served as Leader Thomas Mulcair's spokesman on finance issues, told HuffPost that the Liberals' baseline deficit of $18 billion is a direct result of their own decisions.
The Grits are exaggerating the deficit by $3 billion in pension accounting, inflating the contingency by $3 billion, undertaking $3 billion in tax cuts that few Canadians have benefited from, refusing to increase taxes on corporations and pledging $3 billion in spending review that would erase any deficit they currently claim, he wrote in an email.
"So much of this deficit is a result of Liberal decisions, not anything directly attributed to the economy or the previous government," Thomson wrote. "We will need to wait and see the details and choices, but the fact is this budget will be a far cry from what the Liberals promised."
"We put forward a plan that focused on investing in our communities, helping the middle class, and creating growth in a way that would help all Canadians."
Monday, Trudeau said the upcoming Liberal budget was exactly what the party had campaigned on.
"We put forward a plan that focused on investing in our communities, helping the middle class, and creating growth in a way that would help all Canadians," the prime minister said. "That is exactly what we are going to be delivering in tomorrow's budget.
But some leaks suggest that Tuesday's budget will defer some of the Liberals' spending promises.
During the election campaign, when Mulcair promised his first budget would be balanced, Trudeau argued that the NDP couldn't fund its program without making deep cuts or postponing investments, such as child care spaces and infrastructure spending, to years down the line.
"Mr. Mulcair talks about putting things off for three, five, 10, 20 years. That's not what we need," Trudeau said during that Globe debate. "We're the only party that's said, 'Yes, we will run three modest deficits because it's time to invest in Canada once again and give people the support they need.'"
Trudeau, who called Mulcair's promises "puffs of smoke," may Tuesday be seen to be guilty of doing his own puffing if the Liberals' budget reveals several promises have been postponed.
Or, the prime minister may stand accused of plunging Canada into an even larger sea of debt.
At the time of Trudeau's deficit announcement back in August, then Conservative prime minister Stephen Harper suggested the Liberal leader had "no idea what he's talking about."
"That's why you could be sure that his small deficits will become large deficits and would get Canada into the same pickle of high taxes and program cuts that we had under the last Liberal government," Harper warned, referring to the actions undertaken in by the Grits in the mid-1990s to respond to free-spending decades by Progressive Conservative prime minister Brian Mulroney and Liberal prime minister Pierre Elliott Trudeau.
Also on HuffPost
Trudeau's 7 New Senate Appointments