UPDATE: Raymond Moore quit his posts Monday as the BNP Paribas Open tournament director and chief executive of the Indian Wells Tennis Garden amid backlash about his Sunday comments, according to The New York Times.
Novak Djokovic may be one of the best tennis players of all time, but he should probably bite his tongue the next time he's asked for his thoughts about female athletes.
The Serbian champion weighed in on Sunday's incendiary comments from Raymond Moore, the director of the BNP Paribas Open tournament, who said pro female players "ride on the coattails of men" and that many of them are "very attractive."
"If I was a lady player, I'd go down every night on my knees and thank God that Roger Federer and Rafa Nadal were born, because they have carried this sport," Moore said.
He later apologized.
When asked by reporters for his thoughts, Djokovic acknowledged that Moore's comments weren't politically correct — but likely made things worse.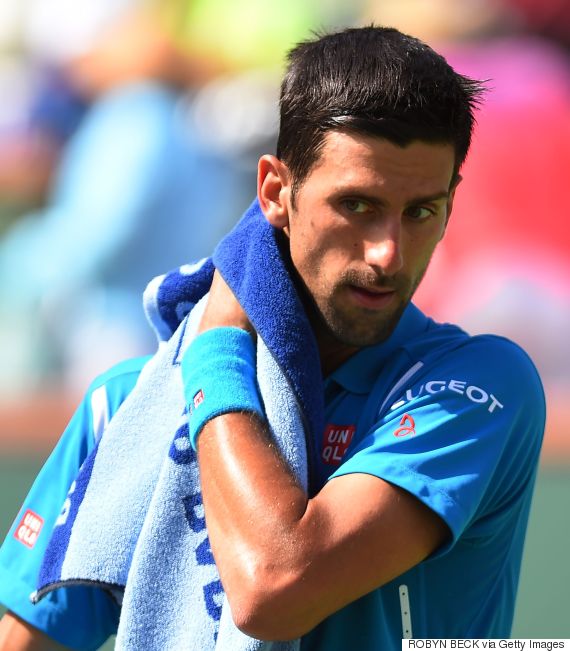 Novak Djokovic of Serbia takes a break during his men's final match against Milos Raonic of Canada at the BNP Paribas Open at the Indian Wells Tennis Garden in Indian Wells, California, March 20, 2016. Djokovic defeated Raonic 6-2, 6-0. (ROBYN BECK/AFP/Getty Images)
He said that while female players deserve respect for their efforts to earn equal pay, men should fight for more money because their games draw a bigger audience.
"The stats are showing that we have much more spectators on the men's tennis matches," he told reporters.
Expressing gratitude for his early coach, Jelena Gencic, he said he was "completely for women power," then opted to throw in his two cents about their bodies.
He said he admired women's athletic achievements because they face different physical challenges and sacrifices.
"It's knowing what they have to go through with their bodies, and their bodies are much different than men's bodies," he said.
"You know, the hormones and different stuff, we don't need to go into details."
The 2015 men's Association of Tennis Professionals tour drew 973 million viewers on TV and digital, the BBC reports. The Women's Tennis Association events and finals saw 395 million in the same year.
"The stats are showing that we have much more spectators on the men's tennis matches."
Some may see Djokovic's comments as outdated, but he's not alone in thinking equal pay should be tied to viewership, according to BBC correspondent Russell Fuller.
"That may lead in future to women being paid more, but could also fatally undermine the principle that men and women should be treated equally for competing on the same stage — irrespective of the number of sets they are asked to play."
Other players were less sympathetic in their responses to Moore, notably Serena Williams.
Williams called his remarks a disservice to iconic player Billie Jean King and "every woman on this planet that has ever tried to stand up for what they believed in and being proud to be a woman," according to ABC.
King herself also wasn't impressed.
Disappointed in #RaymondMoore comments. He is wrong on so many levels. Every player, especially the top players, contribute to our success

— Billie Jean King (@BillieJeanKing) March 20, 2016
Like Us On Facebook

Follow Us On Twitter

Also on HuffPost
International Women's Day