Multiple charges have been laid against a Calgary pet store, after hundreds of neglected animals were seized from the business in December 2015, according to the Calgary Humane Society.
The Humane Society said in a release 333 exotic animals were seized from Riverfront Aquariums in northeast Calgary Dec. 2, 2015.
A spokesperson for the Calgary Humane Society called the seizure one of the largest and most complex in the society's history, and included snakes, lizards, amphibians, and arachnids.
"What is most concerning in this case is the blatant disregard for the basic welfare of the animals in the care of this business," animal cruelty investigations manager Brad Nichols said.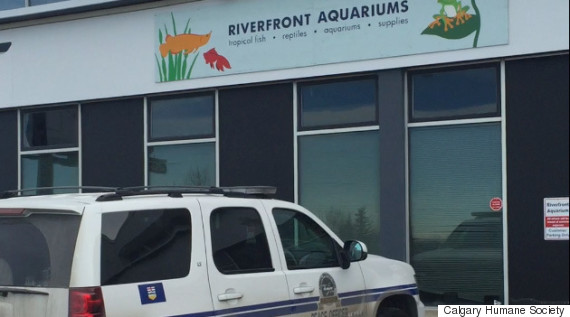 Riverfront Aquariums is facing multiple charges after neglected animals were seized from the store. (Photo: Calgary Humane Society)
Store manager Wayne Woo and owner Michael Chow are facing a number of charges under the Animal Protection Act of Alberta, as well as three separate sets of charges from previous offenses in 2014 and 2015.
Each time, animals in the store were found to be suffering from neglect and in medical distress.
"It is very concerning to see a business dedicated to the sale of animals charged once, but to see subsequent charges laid demonstrates either an inability or unwillingness to properly care for their animals," said Nichols in a statement last July.
The pair's first court appearance is scheduled for May 24.
Like Us On Facebook

Follow Us On Twitter
Also on HuffPost:
Dogs Before And After Adoption