Khalil Karbani/Facebook
Voters will head to the polls Tuesday to choose a new MLA for Calgary-Greenway, and it's looking to be a close finish.
A Mainstreet/Postmedia poll released March 12 found that anything could happen, with four of the candidates sitting within just a few points of each other.
"It looks like a four way race may be underway in Calgary Greenway with a by election less than two weeks away," said Quito Maggi, president of Mainstreet Research, in a statement.
"It appears that the PC candidate has a clear lead, but with a 4 point margin of error, this could be a lot closer than it appears."
PC candidate Prabhdeep Gill is sitting at seven points above NDP candidate Roop Rai. And Rai, Wildrose candidate Devinder Toor and Liberal candidate Khalil Karbani are all within three points of each other.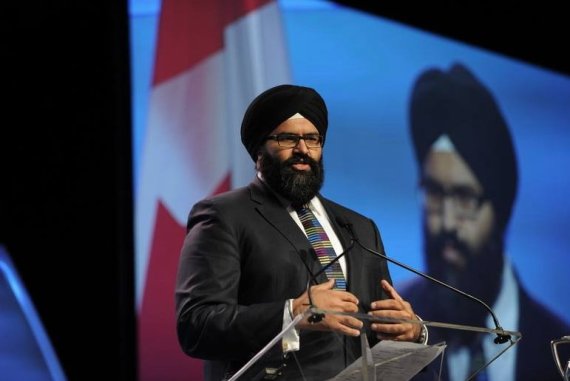 Former Alberta MLA Manmeet Bhullar was killed in November. (Photo: Manmeet Bhullar/Facebook)
The byelection is being held to replace the seat left vacant by Progressive Conservative MLA Manmeet Bhullar.
Bhullar was killed in a traffic accident last November after stopping to help a stranded motorist.
Byelection could forecast future of PCs in Calgary
Some political observers are saying today's results could be important for the future of Alberta's Progressive Conservatives.
Calgary has long been the keystone of Tory support in the province, which changed drastically when the NDP won a majority in last May's election.
In a September byelection, the Wildrose party beat the PCs in Jim Prentice's former riding.
"This could be a lot closer than it appears."
Calgary political scientists Duane Bratt and Melanee Thomas say the PCs need to win Calgary Greenway as they face pressure from some sectors to merge with the Wildrose party.
"This byelection may have province wide implications as the PCs appear poised to hold the seat previously held by Manmeet Bhullar. A PC win could stall talks to unite the right. A combined Liberal and NDP vote would surpass both the Wildrose and PCs. If the NDP can reproduce their success in attracting Liberal voters from 2015, they could win this by election," Maggi said.
The Mainstreet/Postmedia Poll surveyed 523 Calgary-Greenway voters by phone, and has a margin of error of +/- 4.26%, 19 times out of 20.
With files from The Canadian Press
Like Us On Facebook

Follow Us On Twitter
Also on HuffPost:
Winners And Losers: Alberta Budget 2015