Doug Ford was his brother's keeper.
"My heart is ripped out. I loved Rob so much I took care of him and protected him from the day he was born," his older brother Doug told CP24.
"I miss him so much he was my best friend."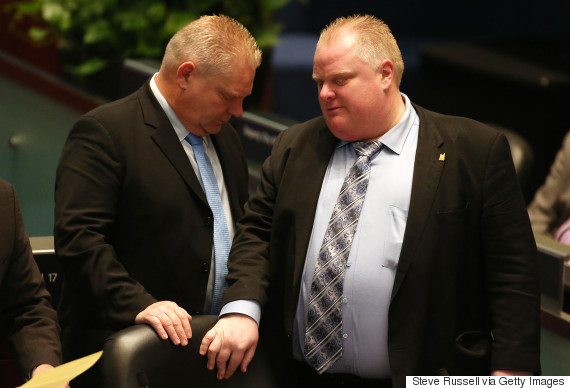 Rob Ford and his brother councillor Doug Ford huddle during debate at City Hall in Toronto on Nov. 13, 2013. (Photo: Steve Russell/Toronto Star via Getty Images)
Former Toronto mayor Rob Ford died of a rare form of cancer Tuesday. He was 46.
The Ford family released a statement earlier in the day confirming the death "with heavy hearts and profound sadness."
"A dedicated man of the people, Councillor Ford spent his life serving the citizens of Toronto," it read.
More on Rob Ford's death:
Doug, a former city councillor, stepped into his brother's place in 2014's mayoral race after after Rob's cancer diagnosis forced him to drop his campaign.
'You put us on the map'
The flag at City Hall was lowered to half mast while people gathered at the base of a big "Toronto" sign to write tributes to the late mayor.
"You put us on the map. This city will always have a part of you," read one message in chalk. Another: "Your kind spirit will be missed. You fought a good fight."
Toronto is "reeling" from Ford's death, said current Mayor John Tory.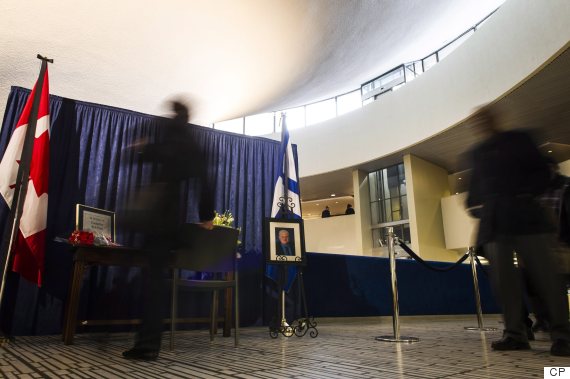 Friends and supporters of Rob Ford gather at Toronto's City Hall to pay tribute to the former mayor in Toronto on March 22, 2016. Ford died Tuesday at age 46 after battling cancer. (Photo: Christopher Katsarov/The Canadian Press)
In a statement, Tory said he and Ford had known each other for many years and put politics aside to laud his sometimes political foe.
Ford spoke his mind and ran for office "because of the deeply felt convictions that he had," Tory said.
"He was, above all else, a profoundly human guy whose presence in our city will be missed."
Also on HuffPost:
Photo gallery

Rob Ford's Cancer Battle

See Gallery