TORONTO — A YouTube video of a woman angered by a man who confronted her for parking in a disabled parking spot outside a Tim Hortons in Toronto has sparked howls of Internet outrage. The video, posted by the man — named Ryan Favro — has garnered more than one million views since it was posted on Monday. It begins with Favro politely asking the woman about her parking as she returns to her Jeep with her Timmys coffee and ice coffee. "So why do you park in a handicapped parking spot? Are you handicapped?" he is heard asking. "No," she says, and walks away.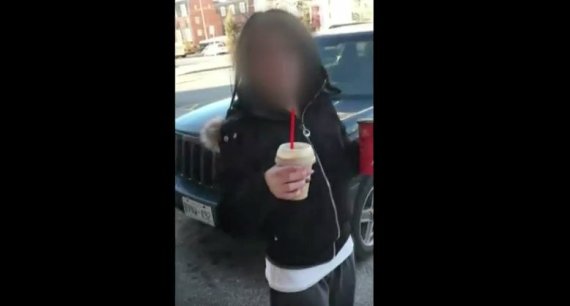 A women threw coffee at a man after he confronted her about parking the disabled parking spot. (Photo: City/YouTube)
"Well, what makes you so special that you can park in a handicapped spot?" he asks. "Pardon me, I'll break your (expletive) phone," she says as she gets into the driver's seat, and slams the door. The woman then gets back out, and hurls what appears to be the iced coffee — along with profanities — at the videographer. When he then persists in asking, "What makes you so special?" she throws the coffee at him. "I'm taking this to the police, you assaulted me," he says. "Good for you!" she yells, before backing up and driving away, licence plate clearly visible in the video. Toronto police spokesman Mark Pugash said it wasn't clear where exactly the video was taken or who took it. "If there's a name of the guy, then we can check, otherwise I don't know that it's potentially our case," Pugash said. "Her behaviour is appalling." Most social-media users agreed with that assessment with a Facebook posting of the video by Instanews Toronto drawing thousands of comments.
"She has no respect for the law, for any potential handicapped person needing that spot while she was inside. She has no self-respect either."
"I'd have kicked her doors in for throwing stuff at me," said one poster identified as Marcus Ward. Another, posting as Heide Churchward, said: "She has no respect for the law, for any potential handicapped person needing that spot while she was inside. She has no self-respect either." Some, however, felt both the man and woman, who appears to be in her late 20s, were wrong. "She was inconsiderate and downright lazy, parking in a handicapped spot when you don't have any kind of disability is potentially putting someone that needs it at risk for injury," said Christa Terry.  "As far as the guy, if you catch someone abusing a handicapped spot then yes, I agree you should confront them. He should have confronted her politely." One woman, identified as Brigitte MacDougall, said she felt sorry for the woman. "Imagine yourself in her shoes right now, reading all of these hateful and mean, nasty comments," MacDougall said. "I bet she feels pretty bad about her actions, but the worst part is how this is going to affect her as a person, reading all these awful things. We all make mistakes."
Also on HuffPost