If you're cruising through a shopping app called Wish today, you might notice something rather upsetting. The e-commerce platform has labeled their selection of clothes for plus-size women as "fat lady."
Yes, it's true. The website is selling items listed as, "Fat Lady Black Jumpsuits," "Women Fashion Fat Lady Printing Slim A-Dress" and "Fat Lady Knee Length Elegant Floral Dress Sleeveless Slim Fit Plus Size."
And that's not all. As pointed out by Mic, when searching the term "fat lady" on the site, it is revealed that the offensive label is slapped onto an array of other items, from skirts to tops
According to Recode, Wish, founded by Peter Szulczewski and Danny Zhang, is an "e-commerce app that sells a giant assortment of products at bargain-basement prices," and connects "buyers directly to Chinese manufacturers who ship to customer's doors from factories."
So, sure. We'll give Wish the benefit of the doubt; maybe the term got lost in translation. However, the company, which is said to be worth $3 billion, is based in San Francisco and, let's be real, someone must have thought for a second that the term "fat lady" wasn't the best description for the clothing.
And this isn't the first time Wish has been called out for body-shaming. The platform caused online outrage for posting an image that shows a thin model fitting her entire body into the pant leg of a plus-size legging.
And the saddest part of it all? According to HNGN, the company has yet to take down both advertisements.
As the Daily Mail put it, "If you want to sell clothes to plus-size women, you probably shouldn't call them 'fat.'"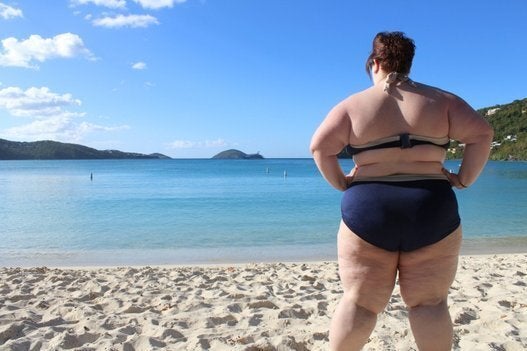 We Exist: Diversity In Plus Size Bodies