Conservative MP Jim Hillyer has died at the age of 41.
The news was confirmed by interim Conservative Leader Rona Ambrose Wednesday morning.
"I was deeply saddened to learn of the sudden passing of our friend and colleague, Jim Hillyer," Ambrose said in a statement.
"Jim was a valued and hardworking member of the Conservative team, and a passionate advocate for those he represented. More than that, he was a dedicated husband and father, and a man of strong faith and conviction. I pray that his and his family's faith will help them through this very difficult time.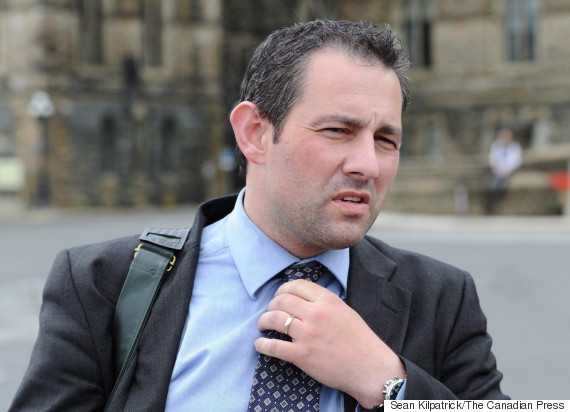 Alberta Conservative MP Jim Hillyer leaves the Centre Block on Parliament Hill in Ottawa on Thursday, May 19, 2011. (Photo: Sean Kilpatrick/CP)
First elected in 2011, Hillyer, the MP for the Alberta riding of Medicine Hat—Cardston—Warner leaves behind a wife, Livi, and four children.
Police called to office at 5 a.m.
Ottawa police responded to a medical call at his office on Sparks Street at approximately 5 a.m. this morning. Police can't confirm when Hillyer died or of what causes until an autopsy has been done. Initial reports suggest, however, he died of a heart attack.
Hillyer was a cancer survivor and had a bone marrow transplant in 2003.
He underwent orthopedic surgery last month, according to CJOC FM in Lethbridge. According to Conservative sources, he had been dealing with an infection in his leg.
Tory MP Tom Kmiec tweeted that Hillyer had just returned to the House of Commons Tuesday.
This is a shock to us all. Jim had just returned yesterday and was in great spirit. I will miss our daily QP banter. RIP my friend.

— Tom Kmiec, MP (@tomkmiec) March 23, 2016
Prime Minister Justin Trudeau said in a statement that Hillyer's death had rocked the "tight-knit" parliamentary community.
"I want to say how much of a privilege it has been to serve with Jim," Trudeau said. "I know he will be greatly missed on the Hill and in his constituency."
Former prime minister Stephen Harper took to Twitter to laud Hillyer as a committed MP and loving husband and father.
'Very sad day'
NDP Leader Thomas Mulcair told reporters it was a "very sad day for our parliamentary family." Mulcair said he wasn't close to Hillyer but knew the MP worked hard and represented his constituents well.
"There's lots of time for partisanship in here but there are times when we all come together," Mulcair said.
Liberal House Leader Dominic LeBlanc said the sudden passing brought back memories of the death of former finance minister Jim Flaherty.
"I think people don't often realize how you develop friendships with and affection for colleagues in every corner of the House," LeBlanc said. "A moment like this affects everybody in the House of Commons."
Party leaders paid special tribute to Hillyer in the Commons later Wednesday before adjourning the House for the day. House Speaker Geoff Regan has asked members to sign a book of condolences for Hillyer's family.
A number of current and former MPs took to Twitter Wednesday to share their condolences:
Condolences For Jim Hillyer
With files from Althia Raj, Jessica Chin, The Canadian Press