A familiar crisis has returned to an Ontario First Nation.
Sixteen children have been airlifted from the community of Kashechewan to receive medical treatment for mysterious skin lesions. Pictures of affected kids, including a five-month-old baby who recently underwent heart surgery, were shared widely over the weekend.
Here is another one this niece just survived an open heart surgery not to long ago and now this she doesn't deserve this kind of life. Come on people do something make noises and share.

Posted by Derek Stephen on Friday, 18 March 2016
Immediate steps have been taken to get medical care for the children, according to Health Minister Jane Philpott. A team from the northern community of Moose Factory has been assigned to go door-to-door in Kashechewan to identify any new cases.
In question period on Monday, Philpott was adamant that the rashes and sores are not caused by the reserve's water. But the community's former chief is "still skeptical."
"I can't rule out water yet until I know what's causing these issues," Derek Stephen told CTV News.
"A full review needs to be done of our facilities, our infrastructure, and also our environmental impacts," said Stephen, whose baby niece has been affected by the unknown condition.
"I can't rule out water yet until I know what's causing these issues."
— Derek Stephen, former Kashechewan chief
Stephen said repeated floods and sewage back-ups in recent years have contaminated the reserve's land and the grounds have yet to be properly cleaned.
"This is where our kids play," Stephen said. "I think the whole community is contaminated."
The children's health crisis in Kashechewan has brought a renewed urgency to its water issue, which has been simmering for over a decade.
State of emergency
Kashechewan is a Cree community upstream from James Bay and home to about 1,900 people. The closest urban centre is Timmins, 400 kilometres away.
It's one of the number of northern Ontario First Nation communities that declared a state of emergency last month over what local leaders called a suicide epidemic. A dire shortage of medical supplies has also been cited.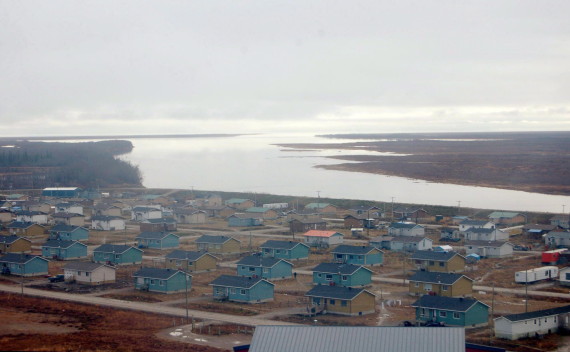 The Northern Ontario reserve of Kashechewan is seen in this undated handout aerial photo. (Photo: The Canadian Press)
The declaration called on governments to meet with First Nation leaders and draft a plan to ensure communities have access to safe, clean drinking water. It's nothing new that many First Nations across Canada still face water issues — and aboriginal leaders aren't the only ones calling for more government action.
Last year, a CBC news investigation found that water advisories have been issued for two-thirds of all Canadian First Nations communities since 2005.
Today, there are 135 active water advisories issued for 86 First Nations communities across the country (excluding British Columbia).
United Nations pressure for solution
Earlier this month, the United Nations called on Prime Minister Justin Trudeau to address ongoing water issues, calling it a matter of human rights.
Trudeau's commitments to aboriginal peoples were front and centre in his government's first budget released Tuesday, which set aside $8.4 billion for indigenous programs over five years. The "historic" funding includes $2.6 billion earmarked for education.
The budget specifically addressed water infrastructure on reserves with almost $2 billion allocated to end boil-water advisories — a pledge the prime minister promised to achieve by 2021.
Proposals 'sitting' in government offices
Ten years ago, Kashechewan residents were forced to leave their homes over similar concerns over mysterious rashes.
In 2005, high E. coli levels caused an outbreak of serious skin lesions and a quarter of Kashechewan's population had to be evacuated, according to APTN News.
"Since the 2005 crisis in our community all the government has done are repairs and quick fixes," Stephen, former chief, told the network in an interview Tuesday.
"There are numbers out there, proposals that are sitting in their offices to do permanent replacements for the water plant and infrastructure," he said.
A water treatment plant was built in 1995, but its intake pipe is downstream from the community's sewage lagoon. It's a structural flaw which means tides from James Bay push dirty water back and forth across the intake, according to CBC News.
In response to the 2005 crisis, the military delivered a water purification unit — the same one used on missions by the Canadian Forces for natural disasters and humanitarian crises overseas.
Last year, rising floodwaters forced Kashechewan residents from their homes for the fourth consecutive year. The Toronto Star reported 350 people were still living in the Kapuskasing hotels and apartments they were placed in the previous year when the new evacuation order was called.
The evacuations cost the First Nation $20 million every year.
With files from The Canadian Press
Also on HuffPost
Aboriginal Concerns In Canada