It wasn't long ago that Stefan Jagsch attended an anti-refugee rally where migrants were labelled "lawless primates" and "invaders."
That was before two Syrians pulled him out of a car after it hit a tree last week, The Associated Press reported.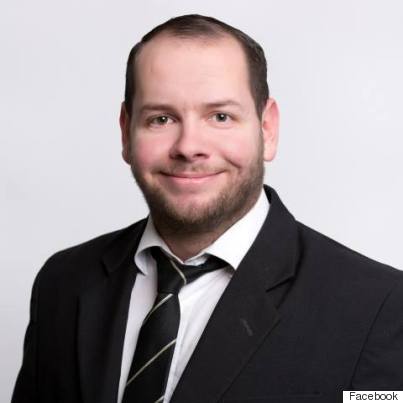 Stefan Jagsch, from his Facebook profile. (Photo: Facebook)

Jagsch, a member of the German National Democratic Party (NPD), which has anti-immigrant positions, was driving between the towns of Büdingen and Altenstadt when his car hit a tree, leaving him "seriously injured," reported Der Spiegel.
Two Syrian refugees pulled Jagsch out of the car and gave him First Aid before police arrived, the dpa news agency said. The refugees were gone by the time officers were on the scene.
Jean Christoph Fiedler, who leads the party in Germany's Hesse area, said the Syrians "likely performed a very good, humane deed," according to a German report quoted by The Guardian.
The NPD is known as an extremist party that has been called one of the "scariest far-right parties" in the European Parliament.
It has campaigned on anti-immigration policies, using slogans such as "the boat is full" and "National Socialism." Such positions have gained it a neo-Nazi label.
But anti-refugee sentiment has also boosted the NPD's popularity in parts of Germany, even as the government has tried to ban the party.
The NPD took 10.2 per cent of the vote in municipal elections in the area where the crash happened, and much of that had to do with its anti-refugee rhetoric, The Guardian noted.
In a Facebook post, Jagsch said he wasn't conscious at the time of the crash so he couldn't confirm whether Syrian refugees had helped him.
Dos refugiats sirians socorren el polític neonazi de l'NPD Stefan Jagsch després d'un greu accident de trànsit pic.twitter.com/DGrR2FVEth

— Roger Suso (@eurosuso) March 22, 2016
However, two Syrian refugees told firefighters that he was conscious. They were in the area because two vans with 16 refugees stopped by the crash site before medical help arrived.
Jagsch was reportedly in hospital on Tuesday and is "doing well," according to Fiedler.
Also on HuffPost:
Oxfam Aid Work For Syrian Refugees