Teachers who dip into their own wallets to buy school supplies are finally being offered an extra token of support from Ottawa.
Tucked inside the Liberals' 269-page budget tabled Tuesday is a proposal for a refundable tax benefit for eligible teachers and early childhood educators who buy materials for their classrooms with their own money.
If they keep their receipts of school supply purchases, they'll be able to claim up to $150 in credit — or 15 per cent of expenses up to $1,000.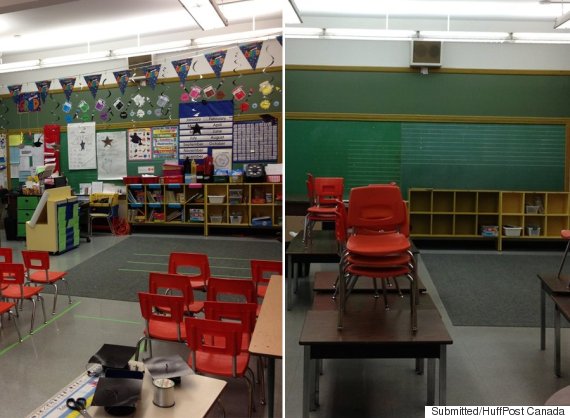 A B.C. classroom after and before teaching supplies. (Photo: Submitted)
Jack Aubry, a finance department spokesperson, confirmed to The Huffington Post that teachers are eligible for the tax credit whether or not they applied for the existing Canada employment amount.
The new benefit only applies to the purchase of eligible supplies "such as paper, glue and paint for art projects, games and puzzles, and supplementary books."
The Canada employment amount, introduced by the Tories, allows educators to claim up to 15 per cent back on up to $1,127 in expenses, proof of purchases not necessary.
"... this credit does not solve the problem of chronic underfunding."
— Heather Smith, CTF president
The move fulfills a Liberal election pledge made by Prime Minister Justin Trudeau, a former teacher who taught math, drama, and French.
A Canadian teachers' union praised the budget presented by Finance Minister Bill Morneau as "progressive" — but added the possible $150 return isn't enough.
"Teachers consistently spend from their own pockets to enhance the learning environment for children," said Canadian Teachers' Federation president Heather Smith in a statement Tuesday.
"Unfortunately, not all materials purchased by teachers appear to be covered. While this credit does not solve the problem of chronic underfunding of elementary and secondary education, it recognizes some of the contributions made by teachers."
Look how teaching supplies make a difference in classrooms:
B.C. Public School Classrooms



The average teacher shells out nearly $530 on school supplies every year, according to the Nova Scotia Teachers Union. Money from parent advisory committee fundraisers also helps pay for materials, and parents have been asked to help foot bills as well.
Teacher: 'Sterile' rooms don't motivate kids
Some teacher, however, spend thousands of dollars throughout their careers to make their classrooms "vibrant and amazing" places to learn.
In a HuffPost blog published during B.C.'s 2014 teachers' strike, Ashley D. MacKenzie said some people have called on teachers to stop buying supplies for their students — but she said the practice is huge for students.
"I've bought posters and decorations because I find bland rooms unwelcoming. Sterile," the teacher wrote. "And I don't want to spend my days in a room that doesn't stimulate or motivate me.
"I doubt my students would like to, either."