Everyone loves to pamper themselves, and for many women, the beauty treat of choice is a gel manicure.
For nail salon lovers, the chip-free mani is a thing of art. It lasts longer than having regular old polish on your nail beds and you're not sitting around frantically waving your hands in the air for a speed dry, all thanks to the UV light lamp curing your mani in minutes.
But here's the issue, as Miss Universe U.K. Amy Willerton points out, when you get a gel manicure "it's pretty much like sticking your hand in a sun-bed constantly, every two weeks. And if you're continuously doing that, you're gonna get marks, you're gonna get sun damage on your hands."
As noted by Buzzfeed, a gel manicure "is equivalent to about 15-40 minutes in direct sunlight" and can put your hands in danger of premature aging.
Having a hard time believing that? Check out the video above from YouVeeShield, a developer who has created "disposable skin protectors for hands and feet that block 99.9 per cent of dangerous UV light from nail lamps, protecting hands from premature aging, wrinkles and sunspots during gel-polish nail services," as indicated on their Indiegogo account.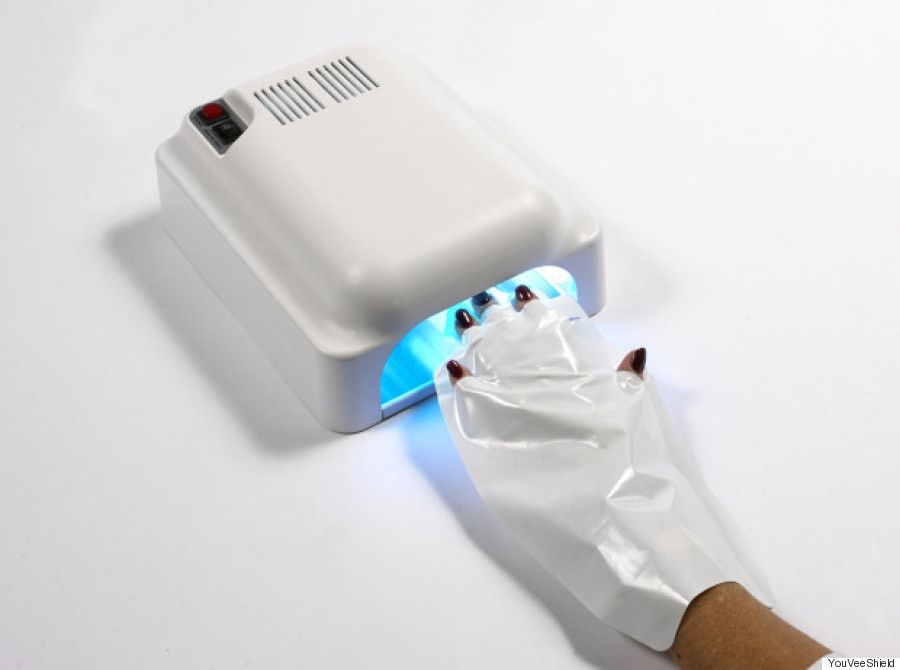 The mission of the California-based brand, which was founded in 2014 by Renee Albera, is to provide women with skincare protection while getting their beloved gel manis.
The UV-blocking glove, which measures at .003 inches, is made of "thermoplastic elastomer that contains titanium dioxide," which is FDA-approved. And according to the Solar Light Company, the glove is the only product proven to block 99 per cent of UV light.
Here's how to use it:
Yup, all you do is slip your hand into the YouVeeShield glove, which only exposes the fingertips, and slide it into the light.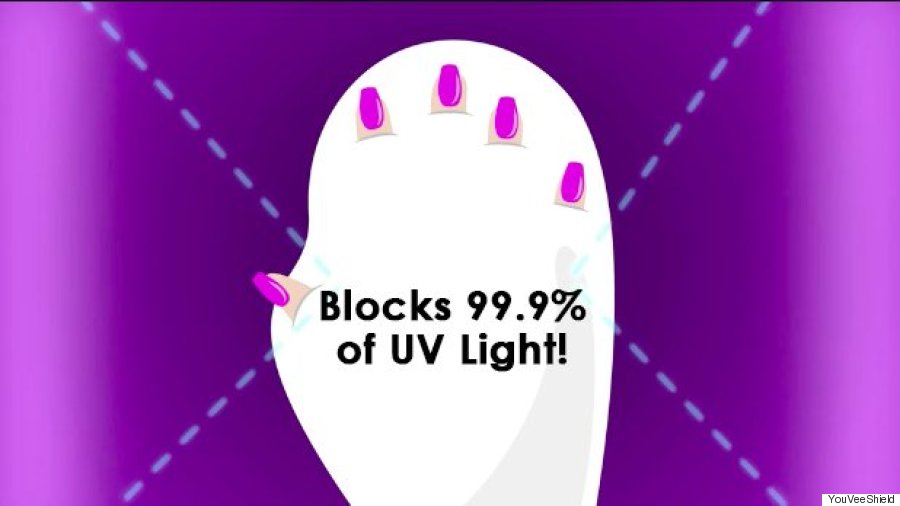 As of now, the product is still raising money on Indiegogo, with shields going at one dollar or higher for a bundle. The expected delivery date is June 2016.
So if you're looking for simple ways to prevent hazards from entering your daily beauty routine, it looks like YouVeeShield is giving you an easy starting point with its UV light-protection glove.
Follow Huffington Post Canada Style on Pinterest, Facebook and Twitter!
Also on HuffPost
10 Tips For The Perfect Manicure