City of Calgary
Calgary police are searching for a suspect after a bus driver scared off a woman's attacker in the city's northwest.
A 19-year-old woman got off a bus around 10:45 p.m. on Tuesday at Sandstone Dr. and Berkshire Boulevard when she was approached by a stranger, according to police.
When she tried to leave the man allegedly attacked her, throwing her to the ground and hitting her face and head before attempting to sexually assault her, police said.
Then bus driver Amandeep Hunjan pulled into the bus loop.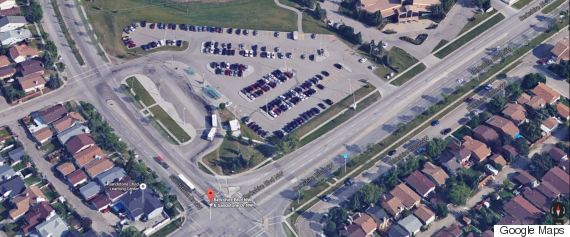 The bus loop where the assault took place. (Photo: Google Maps)
"When I come near, I see he starts running and when I come close to the bus shelter, then I see a girl who is on the ground," Hunjan told Global News.
Hunjan waited with the victim until police arrived and took her to the hospital where she was admitted in stable condition.
Police told CTV News the victim suffered multiple injuries to her face.
Calgary transit driver Amandeep Hunjan came to the rescue of a woman, scared off man trying to sexually assault her. pic.twitter.com/HofXBsh9vI

— Alesia Fieldberg (@CTVAlesia) March 23, 2016
"f it weren't for the operator arriving when he did, we can only predict that it could have been much worse for her," said Brian Whitelaw, head of safety at Calgary Transit, in an interview with CBC News.
Police believe the attack was random.
The alleged attacker is described as white man, between 18 and 20 and approximately 5'10" tall. He was last seen wearing a black baseball cap, a grey hoodie and blue jeans. Anyone with information is asked to contact Calgary police.
Like Us On Facebook

Follow Us On Twitter
Also on HuffPost: