Jessica Rose Photography
Two Alberta women have teamed up to prove that pit bulls have a soft and loveable side in an effort to combat the breed's reputation — and hopefully, find them some forever homes.
The Lethbridge, Alta. pair snapped pictures dogs up for adoption wearing flower crowns to show that many shelter animals are really just big teddy bears.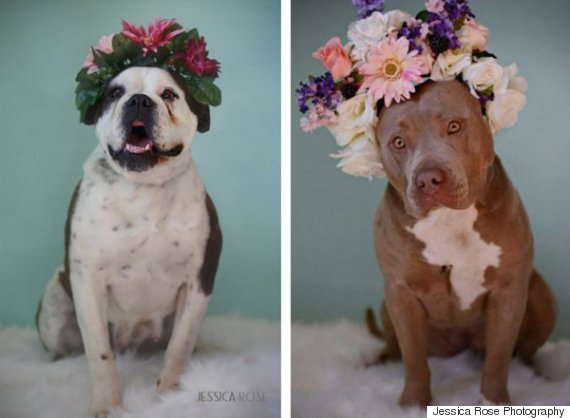 Dory and Praline are two of the dogs up for adoption at the Prairie Pit Bull Rescue. (Photo: Jessica Rose Photography)
Photographer Jessica Van Dyk took the adorable images, and Iris Krosse created the delicate flower crowns.
The pair were inspired by artist Sophie Gamand's photography series "Flower Power," in which the artist aims to soften up the dogs' rough image with dreamy, fragile-looking pictures.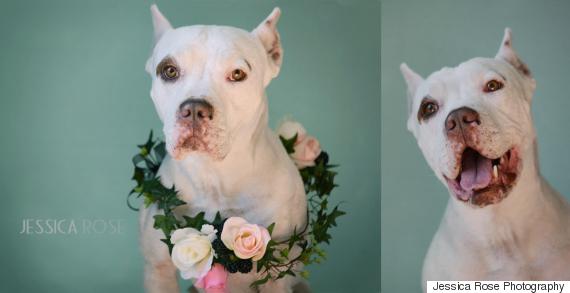 Who could say no to this sweetie? (Photo: Jessica Rose Photography)
"I decided to photograph them in a totally unexpected way, to see if new imagery could challenge the way we perceive them, and ultimately the way we treat them," Gamand told The Huffington Post.
After seeing the "Flower Power" images online, the duo decided to partner with Lethbridge's Prairie Pit Bull Rescue to "break the stigma" that pit bulls are just rough-and-tumble dogs, Van Dyk told The Huffington Post Alberta.
The rescue shelter, which takes in surrendered and rescued pit bulls, said all of the dogs pictured in the Albertans' photo series are available to be either adopted or fostered.
Like Us On Facebook

Follow Us On Twitter
Also on HuffPost:
10 Stereotypes About Pit Bulls That Are Just. Dead. Wrong.